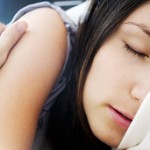 There really is an app or two around for absolutely every single thing you could possibly think of that you may want. Some are helpful, some are fun and some are just plain weird, yet no matter how many there are the demand only increases. There are many apps on the market designed to help people sleep better, from guided mediation to actually counting sheep!
Relax Escape Meditate
This app begins by taking you through some guided meditations before setting you to your own while showing you beautiful watercolour paintings in tranquil colours. In the background plays soothing music and the whole package should have you feeling sleepy in minutes. The original version with 32 different paintings is completely free – there are in-app options to purchase new pictures if you get sick of them over time.
Download 'Relax Escape Meditate' for iTunes – https://itunes.apple.com/en/app/naturespace-relax-meditate/id312618509?mt=8
Breathing Zone
Meditation is all about letting go of unhelpful thoughts, emptying your mind and entering a trance-like state of total relaxation, from which sleep naturally follows on. The Breathing Zone app guides you through the process of gradually slowing down your breathing and heart rate and focusing on nothing but that.
Download 'Breathing Zone' for iTunes –https://itunes.apple.com/gb/app/breathing-zone-free-relaxing/id416021553?mt=12
Count Sheep HD
The Count Sheep app does exactly as you would expect – shows you images of cartoon sheep jumping over a fence and lets you count them until you fall asleep. Relaxing music plays while you count, and you can set a timer so the app switches itself off at a time you expect to be asleep by.
Download 'Count Sheep HD' for iTunes – https://itunes.apple.com/us/app/count-sheep-hd/id364865557?mt=8
ProActive Sleep
ProActive Sleep is your own personal sleep trainer. Users can program in all relevant information such as amount of sleep required, time needed to be up in the morning, amount of times usually awaken in the night, caffeine intake for the day and more. The app then calculates what time you need to go to bed. Over time you will be able to see patterns and work out how best to get a good night's sleep.
Download 'ProActive Sleep' for iTunes –https://itunes.apple.com/gb/app/proactive-sleep-alarm-clock/id328349387?mt=8
Relaxing Ambience
There are 35 varieties of sounds to choose from to fall asleep to with this app, all chosen for their relaxing effect. Each individual is different, hence the wide range of options. You can choose to fall asleep to the sound of a stream running through a forest, a thunderstorm or a crackling log fire, whatever your preference.
Download 'Relaxing Ambience' for iTunes –https://itunes.apple.com/us/app/relaxing-nature-scenes-free/id350705975?mt=8
We all need a little bit of extra help falling asleep sometimes. As most of these apps are either free or less than a pound, it may be worth checking some out.
This post was written on behalf of Hotelcontractbeds.co.uk – helping you get the best nights sleep possible with their selection of folding beds & mattresses.