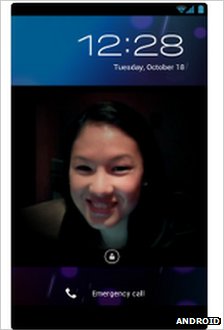 Google has unveiled the latest version of its industry-leading Android smartphone software.
Ice Cream Sandwich adds a range of new features and a redesigned interface.
The system was launched in partnership with Samsung, whose Galaxy Nexus handset will be the first to use it.
Android's main rival, Apple, released an update to its iOS software last week, although many owners were unable to download it immediately due to overwhelming demand.
Ice Cream Sandwich – also known as Android 4.0 – follows the tradition of naming versions after cakes, confectionery or frozen desserts.
Previous releases have been codenamed Cupcake, Donut, Eclair, Froyo and Gingerbread.