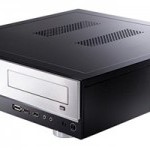 Have you ever thought about creating your own home theatre? With your own home theatre PC you can play movies, music, and watch or record television. As a result, you save a load of space as all systems are integrated in to one and centrally located. You can use the Internet, play games, and perform other tasks that you would otherwise do on a regular computer. Today, we will be looking at the Antec Micro Fusion 350 HTPC case which comes with a remote and high efficiency PSU.
About Antec:
Antec, Inc., is the leading global brand of high-performance computer components and accessories for the gaming, PC upgrade and Do-It-Yourself (DIY) markets. Founded in 1986, Antec is recognized as a pioneer in these industries and has maintained its position as a worldwide market leader and international provider of efficient, quiet, and reliable products. Antec has also achieved great success in the distribution channel, meeting the demands of quality-conscious system builders, VARs and integrators.
Specifications:
Brand: Antec
Model: Micro Fusion 350
Style: HTPC
Dimensions: 4.5″(H)x15.1″(W)x16.1″(D)
Motherboard Compatibility: Micro ATX (9.6″ x 9.6″)
Power Supply: 350W TFX
External 5.25″ Bays: 1
External 3.5″ Bays: 0
Internal 3.5″ Bays: 1
Expansion slots: 4 – Low profile
Cooling system: 3 x 80mm Fans + 1 x 80mm Power supply fan
Front Panel: 2 x USB, Audio In/Out, 1 x eSATA
Features:
Included: Petite remote control and iMEDIAN HD by iMON software for media management and playback
Low-profile desktop height fits in any environment
Dual chamber structure for HDD and motherboard to separate heat and reduce noise
High-quality aluminium plate front bezel with LCD
2x80mm side fans to exhaust air from CPU & VGA card
IR receiver for compatibility with Windows MCE and Vista™
Universal Input and Active PFC 80 PLUS® Certified 350-Watt power supply delivers stable and reliable power while saving you money on your electric bill
Removable HDD tray with extra soft silicone grommets in a separate chamber for maximum quiet and cool operation
80mm intake fan to cool the HDD
2 Drive Bays

External 1 x 5.25″
Internal 1 x 3.5″

4 expansion slots
Low Profile, small form factor
Cooling System:

2 x 80mm TriCool™ 3-speed exhaust fans in motherboard chamber (standard)
1 x 80mm TriCool™ 3-speed intake fan for HDD cage (standard)

Adjustable air guide directs cool external air through CPU
Motherboard: microATX Form Factor (9.6″ x 9.6″)
Front-mounted ports provide convenient connections:

2 x USB 2.0
1x eSATA
Audio In/Out (HDA & AC' 97)

Case Dimensions:

4.5″(H) x 15.1″(W) x 16.1″(D)
12cm (H) x 39cm (W) x 41cm (D)
In-depth Look
The box design is elegant, but not too busy and in-your-face like a few we've seen. It also states that the power supply is 80-Plus certified. The sides of the cases are different, but both basically list a few facts about the contents (80-Plus 350W power supply, 3x80mm TriCool fans, IR receiver). On the rear of the box it explains in greater detail what the 80-Plus Certification means, and displays a three-year warranty sticker, RoHS Compliance sticker, and recyclable sticker.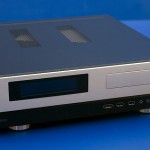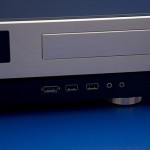 With the case finally removed from the box, we found all of the accessories inside the case. The remote and the supplied screws were located inside a white box, which was sitting on the manual and driver CD for the remote. All the fans were preinstalled and everything was ready and waiting for our own hardware.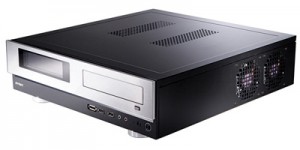 The Micro Fusion 350's semi-gloss black paint looks great and the silver and black theme works well together. The feet are sturdy and large, the front being metallic, while the back feet are rubber. The feet give the case a good height to allow plenty of room for ventilation. The peripherals included are: CD for remote driver/software, manual, Antec 3 year warranty fold out, standard motherboard backplate, four black linkable air guides, case hardware (various screws, standoffs, etc), remote, and remote battery.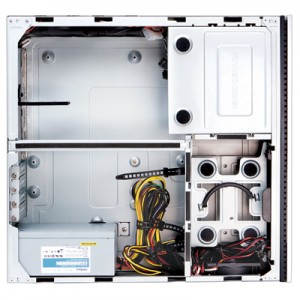 We checked to see if the power supply cables were long enough to reach most motherboard connections and thankfully they were – we even had several inches of slack. Also, the wires were not sleeved, but were coated in a thick, flexible insulation that felt like a good quality material. There are also reusable ties to help with wire management. The 5.25" drive bay slides out easily and requires no tools to do so. The bay should be removed to ease the access to the front panel wires and to also install a drive. There are also four expansion slots which are low profile.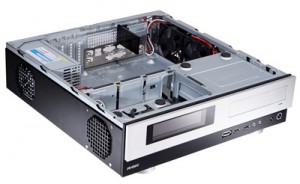 Underneath the drive bay, you will find the front panel audio (which had both high-definition and AC '97 audio connectors), the front USB headers, SATA to eSATA cable, and restart/power button headers. The blue cables attach directly to the motherboard and the red power cable plugs into the LCD panel. Also included is a USB to 4-pin USB header cable, which is required for the LCD/IR to operate.
Installation was very straightforward and the manual is actually half decent. You do, however, need a careful hand when installing due to the confined space but the edges are rounded so you're not likely to get cut from them. We would say the only difficult part is dealing with the power supply wires.
The power supply provided appears to be built well for a 350 watt. The heat sinks are as large as some found in power supplies that deliver a higher output. The fan used is an ADDA DC Brushless model 12V, 0.18A with dimensions 80 x 15mm and 29.9cfm airflow. The three case fans are of course Antec TriCool fans with three variable speed settings via switches connected to each fan:
Fan specs [setting/RPM]: Low/1500, Medium/2000, High/2600
Input current: 0.1A, 0.15A, 0.2A
Airflow: 20CFM, 26CFM, 34CFM
Acoustical noise: 18.05dBA, 243.dBA, 30dBA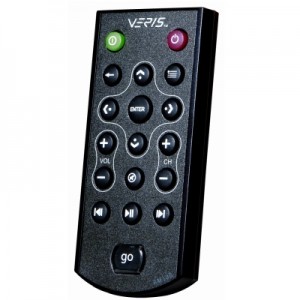 The included remote is compact, but works well from a distance. It has a power switch to turn on the computer and of course turn it off. All of the other buttons are programmable, although they already work well with MCE. A sliding tray on the bottom of the remote houses the 3V CR2025 battery which is included with the remote.
Testing & Performance
We tested the heat dissipating capabilities of the Micro Fusion 350 using Prime95 to stress the CPU.
Idle temperatures were taken 30 minutes after booting into Windows with minimal applications running. Load temperatures were then taken after 30 minutes of Prime95.
AMD Athlon 64 X2 5000+ Black Edition 200×14
Asus M2N-MX SE Socket AM2
Crucial 2GB 1x2GB DDR2 667
On-board GeForce 6100
Antec 350W
120GB Seagate Barricuda SATA 7200.7
ASUS DVD-E616A3
Windows Vista Ultimate Edition
Ambient temp: 20 degrees C
Results
Temperature when CPU idle [low, medium, high fan speed]: 29.0, 27.3, 26.1
Temperature when CPU load [low, medium, high fan speed]: 38.2, 35.5, 33.7
As you can see from the results, the Antec Micro Fusion 350 with its army of three case fans does a great job cooling the system. Even at the lowest speed the temperatures are great and it becomes near silent. All in all, the case as a whole does its job and it does it well. We would suggest a combination of low and moderate settings for silence and performance.
Conclusion
Overall, we were pleased to work with this case. Installing hardware was easy, although a little time consuming. All temperatures were good and well within safe ranges. On the low speed setting, the temperatures were good AND it was virtually inaudible. The look of the Antec Micro Fusion 350 would fit in well with most home theatres, and the cooling capabilities along with reinforced top panel allow for it to be stacked with other devices. Top panel vents allow the CPU heatsink fan to suck in fresh air, whilst the bottom panel helps cool the motherboard. The remote control is small, simple, and works well even across the room. To top it off, the front panel LCD display will scroll news gathered online while it is not being used for media purposes, and will display the titles of any media being used – such as movie names, song titles.
We would definitely recommend this case to anyone interested in a sturdy, well ventilated, attractive home theatre PC.
Pros:
Remote control included
Good PSU
Dual-chamber air-design keeps hardware cooled
Reinforced side panel
Looks good
Cons:
Excessively long power cables