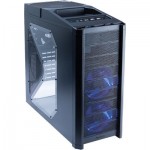 Today we will be looking at the Antec Nine Hundred, a case that, from looks alone, you can tell is geared towards gamers. With an already established name, Antec look to up-the-ante with their latest offerings.
About Antec:
"The year was 1986. Starbucks had only a few stores. Don Johnson was actually cool. The average PC had less memory than today's cellphones. And in Fremont, California, a little company named Antec was born. Antec's first employees never imagined that their upstart firm would rise to the very top of the high-performance computer components industry. But rise it did. And rather swiftly, too."
Specifications:
Model: Nine Hundred
Case Dimensions: 19.4″(H) x 18.4 "(D) x 8.1″(W)
Drive Bays: 9

Front Accessible: 3×5.25″
Internal: 6×3.5″/6×5.25″,3×3.5″/9×5.25″

Expansion Slots: 7
Cooling System:

1 rear (standard) 120mm TriCool Fan with 3-speed switch control
1 top (standard) 200mm TriCool Fan
2 front 120mm Blue LED TriCool fans
1 (optional) 120mm case fan on the side panel

Main Board Size: 12″(W)x9.6″(L)
Weight (net/gross): 31/36 lbs, 14.1/16.3 K
Size: Standard ATX
Special Features:

200mm Top Panel Fan
Windowed side panel
Top USB/FireWire Ports

Package Includes:

1 Tower Case
1 set of screws and motherboard standoffs
1 Installation manual
When you catch your first glimpse of the Antec Nine Hundred case, you are likely to notice the unusual 'bulge' at the top of the case. Mounted on the bulge, is a huge 200mm fan that is just part of the cooling system Antec have provided. You will also notice the two 120mm fans placed on the front of the case that act as coolers for the hard drive bays. They also have very bright blue LEDs which add to the 'military' look this case gives.
If you think Antec stopped with the fans there, you are wrong. Antec chucked in a third 120mm fan to the rear just in case. So that's a 200mm fan, and three 120mm fans. This case really does blow – and not in a bad way.
Antec have also provided two additional points if ever you want to add another two 120mm fans – one on the side window and the other inside the case. However, we think Antec have provided sufficient cooling as it is, so no worries there.
As mentioned earlier, the case gives the feeling of military gear. Matte black and angular with a black mesh grill covering the front drive bays. Clearly, Antec is aiming this case directly at the hearts and minds of gamers.
As we began to put our current system in the Antec Nine Hundred, it was apparent that the designers wanted to make this case as functional as possible. You will notice the power supply must be placed at the bottom of the case which may be an issue for some people depending on hardware. However, this case isn't as big as some of the other gaming cases you can buy so cable lengths should be sufficient.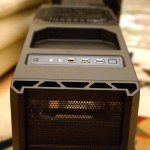 The top of the case features a small tray for storing items, which we found was useless for us because our case is under the desk. The enormous 200mm fan is mounted on top which is exceptionally quiet for its size and speed not to mention the incredible volume of air it pushes out. The part in front of the fan slopes downward a little and the sloped section is where the power and reset buttons, USB ports, audio ports and the FireWire port is located. The power and reset buttons are on opposite sides, the reset button is the smaller of the two.
The inside of the chassis is very clean. The only gripe is the 120mm fan mount for the centre drive bay as it 'sticks out' into the working area of the case. Even though the drive bays are removable, the drive bay fan mount can be an obstruction to some motherboard features, depending on how the board is laid out. We would advise you to remove on of the 120mm fans if it is inconvenient for your motherboard, but rest assured there is another 120mm fan which would most definitely keep the drives cool.
Installing a hard drive or an optical drive is fairly simple, though you do need to remove a lot of screws. Firstly, you must remove the side panel thumb screws. Then you need to remove the drive bay thumb screws—four for each bay. Optical drive mounting requires removing small screws that hold the bay cover in place. Then you have to screw in the hard drive and optical drives, which requires more screws which are all supplied with the case. If you need to install a floppy or flash memory card reader, Antec supplies a single adapter bay for this which goes in one of the three 5.25-inch optical drives.
The 3.5 inch drive bays are removable but the 5.25 inch bays are not. There are no mounting rails—you just slide in the optical drive and screw it in. So you really do need to remove both side panels.
Installing a motherboard is very straightforward. Once you remove the drive bay with the fan mount or just remove the fan mount from the drive bay, it couldn't get easier. The power supply itself literally rests on the bottom of the case. The case could probably house a bulky 1000W PSU but the power cables themselves are likely to be very restricted, so a shorter PSU is probably better. We were able to fit an OCZ GameXtream 700W in with minimal problems, albeit the wires were very messy and a little cramped.
Once you get the system up and running, you have a system with four fans running, given that you've actually attached power connectors to all four. All of the fans have Antec's three-speed switches, and are slow-spinning fans. Even on the slowest setting, you still have four fans moving air through a steel chassis. Add in a power supply fan, motherboard fan, CPU cooler and one or two graphics cards, and you instantly discover that this is definitely not a silent system.
But then again, quietness is not the reason for this case. The Antec Nine Hundred is built for housing a hot and wild beast, also known as a gaming system. It does its job very well by keeping the innards cool even at the expense of some noise which we must say is not as bad as some other cases we've tested. But what is the point in a gaming system when you are not pumping out hundreds of Watts from your 5.1 setup? Exactly.
Conclusion
If you plan on building a high performance gaming rig with piping hot hardware that needs to be tamed, this case is probably for you. Sure, there's some noise made by the fan but unless you have liquid cooling, this will always occur. Its incredible ease of use, great features and generous space make it a great choice.
However, it's also relatively expensive for a steel case without a power supply. At around $120, that's a pretty stiff price but of course it comes with all the qualities Antec have given it. We loved its functionality, great design and of course performance. If you're a power hungry gamer like we are, we think you will love it too.
Pros:
Three 120mm case fans
Placements for two optional 120mm case fans
200mm case fan
Easy assembly
Very Attractive
Lots of airflow
Great design
Quiet fans (on low)
Cons:
Loud fans (on high)
No removable Motherboard tray
Fan controller cannot be placed outside case
Potential issues with larger power supplies
No tool-free features