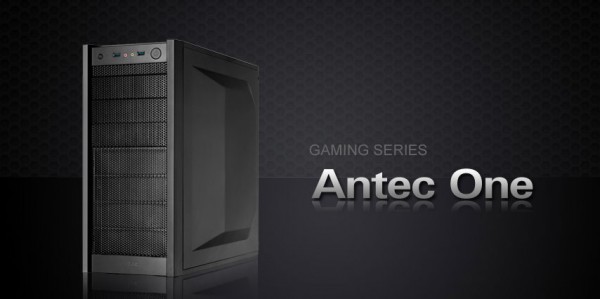 It has been a long time coming, but we're busy again thanks to our friends at Antec who have very generously provided us with an exciting new enclosure to review. Previously, we've looked at the Nine Hundred gaming case and the Micro Fusion 350 HTPC case, which were both great enclosures for their respective jobs. Today, we will be looking at something geared towards gamers and budget-friendly system builders, simply named Antec One. Read on to find out whether this budget case really is the one for all.
About Antec:
"For 26 years, Antec, Inc. has been the global leader in high-performance computer components and accessories for the gaming, PC upgrade and Do-It-Yourself markets. Antec remains an industry pioneer and market leader for quiet, efficient and innovative products such as the P280 and SOLO II enclosures, and it has been independently recognized as the power supply manufacturer with the lowest return rate.
Founded in 1986, Antec is headquartered in Fremont, California, with international marketing headquartered in Berlin, Germany. Antec has additional offices in The Netherlands, China and Taiwan. Please visit Antec online for more information.."
Specifications:
Model
Antec One
Case Type
Mid-Tower
Color(s)
Black
Cooling System
– One 120 mm top exhaust fan
– One 120 mm rear exhaust fan
– One 120 mm side intake fan (optional)
– One 120 mm front intake fan (optional)
– One 120 mm / 140 mm bottom fan (optional)
Drive Bays
– Three 5.25″ drive bays
– Five 3.5″ drive bays
– Two 2.5″ drive bays
Front Ports
– 2 x USB 3.0 with included USB 2.0 adapter
– Audio In/Out
Expansion Slots/Video Card Size
– Seven expansion slots
– 10.5″ (266 mm) maximum video card size
PSU
 No Power Supply included
Motherboard Support
 Standard ATX, microATX, Mini-ITX
CPU Cutout
 Maximum-sized CPU Cutout
Cable Management
 N/A
Side Panel Features
 N/A
Dimensions
 – 18.2″ (H) x 9.5″ (W) x 20.9″ (D) /
– 463 mm (H) x 241 mm (W) x 530 mm (D)
Weight
– Net Weight: 10.8 lbs / 4.9 kg
– Gross Weight: 12.5 lbs / 5.6 kg
Maximum CPU Cooler Height
 6.1″ ; 155 mm
What Antec Has to Say:
For new builders and seasonal system integrators alike, everyone will find something to like in Antec's One. This enclosure is stocked with features any builder will value at an attractive price — ample cooling, USB 3.0, tool-less 5.25″ & 3.5″ drive bays and bottom-mounted PSU intake with air filter — so that you can put your PC together with ease and get to the fun stuff. If you're looking for high quality PC essentials at an affordable cost, then this enclosure is the One for you.
The One offers first time builders and seasoned system integrators a quality, feature-packed enclosure whilst staying budget-friendly. Despite its low price, the One allows for modern, powerful systems by including innovative features allowing for a neat and easy installation, as well as good thermal and acoustic performance.
Click here to see the One product page on Antec's website
Let's take a closer look…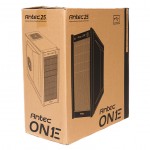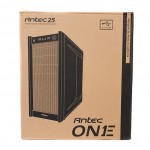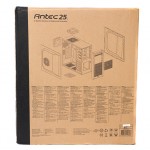 On the front of the box is a simple image of the case, with the Antec One logo in the bottom right as well as a USB 3.0 logo indicating support for those devices. On the rear there is an exploded diagram of the One enclosure and in-depth specifications in several languages.
In The Box:
– Antec One enclosure
– Mounting screws
– 10 x 3.5″ hard drive clips
– 2 x zip ties
– USB 3.0 to USB 2.0 converter
– Product overview sheet
The product overview sheet describes some of the enclosure's main features, however, it does not give any installation instructions. For installation instructions, Antec requires you download the manual from their website.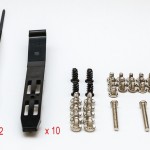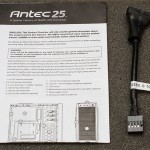 In-depth Look:
Exterior:
Once we had removed the One from its cardboard packaging and foam insets, one of the first things we noticed was how light it felt in our hands. Not only that, but also how sturdy and well built it felt and how aesthetically pleasing it was to the eyes. It was immediately clear that the materials and coatings were of a very high standard. There wasn't much to remind us that this was a budget case.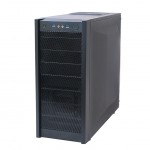 Visually speaking, Antec have opted for an all-black theme and sharp, angular lines fitting in nicely with the rest of their gaming cases such as the One Hundred, Three Hundred, Nine Hundred, Twelve Hundred, etc. The extruded side panels add style and 'gaming' touch, but also serve another more important purpose which we will get onto when we look at the interior. The side panel has a circular grille and fan mount, but you'll need your own fan to stick on if you wanted to use it.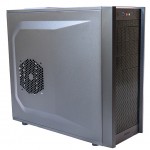 The front of the One is simple and appealing. At the top (starting from left to right) we have the reset button followed by a USB 3.0 port, then audio in/out jacks, another USB 3.0 port and finally the power button. What if you don't have USB 3.0 support on your motherboard? Well, Antec have kindly provided a USB 3.0 to 2.0 converter, which we think is a nice touch.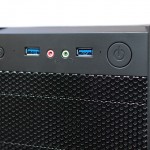 Moving down the front of the case, the One is fitted with an attractive black mesh which is not only sleek and high quality, but again serves another purpose of allowing more case ventilation. Air flow in smaller cases is very important, as the internal volume of the case is smaller and therefore heat builds up quicker. The One definitely takes that into consideration and it gives us the feeling that this case feels more 'premium' than 'budget'.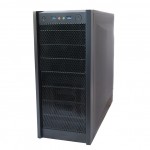 To the rear of the case, we can see Antec have not skimped on any features either. There is a large 120mm rear exhaust fan, 7 PCI slots and support for liquid cooling. As expected, the PSU has been allotted to the bottom of the case. Also notice how Antec has stayed true to the all-black theme. It looks great. Just wait till you see the interior!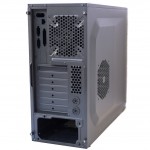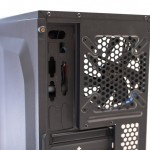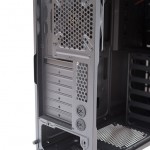 As you may have already noticed, the One's side panels are not just your flat, typical ones seen on low-cost cases. Antec seriously put some thought and effort into their products and the One is no different. The flared side panels are another dual purpose feature. They definitely a nice addition to the case's styling, but more importantly it's what they allow you to do inside the case. The panel closest to the motherboard allows for easy cable management and routing, so you can hide those pesky cables behind the motherboard and not squash them when you fit the panel back on. The other side panel lets you put in a bigger (thicker) case fan without getting too close to the internal components, such as your aftermarket CPU cooler.
That leaves us with the floor and ceiling of the case and, again, Antec have managed to find more space to help with system cooling. The floor of the One has room for a 120mm fan as well as an area below the PSU with ventilation holes and a dust filter. These are not features you often see on 'budget' cases! Finally, onto the ceiling of the case, Antec have very kindly provided us with another 120mm fan mounted to the top as seen in many other Antec cases, but the only difference being no fan controllers on this case, but you can't ask for everything on a budget case, can you?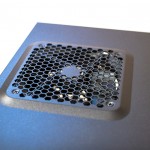 Interior:
The all-black theme continues inside the case to match perfectly with the exterior. This really does make the case seem much more expensive and higher quality, and makes a case look a hell of a lot better than one with ugly bare metal. We love this look Antec has given the One.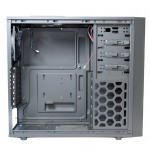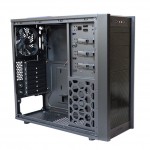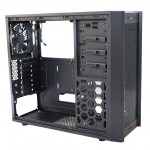 [pullquote_right]…makes installing CPU coolers so easy and pain-free…[/pullquote_right]A closer look inside reveals the two 120mm fans mentioned earlier, located at the top of the case. Both are removable, if you want your own fans in or need the space for something else.
The One's CPU cut-out is very generously sized and we definitely welcome this, as it makes installing CPU coolers so easy and pain-free. Also included are three ideally placed holes for cable management, so no more untidy cables strewn across the interior of your case.
Further down on the floor, you'll find four rubber vibration dampening feet for the PSU to sit on and, as mentioned earlier, ventilation holes and the pull-out filter below the PSU sitting position.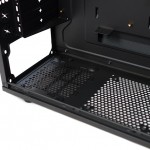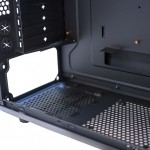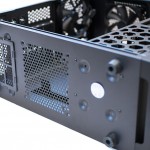 The One's PCI slots are not tool-less, but rather the more traditional screw system which is no biggie. Thankfully, Antec decided to go the tool-less route with the drive bays. Three out of the four bays have the sliding rail which worked well for us and sure as hell beats having to pull out the screwdriver to secure the drives in place.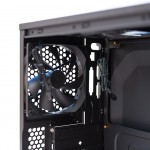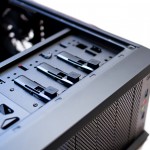 Below, the uniquely designed HDD cage is non-removable and you have to remove both side panels to install drives correctly and also use the provided rails, but with that said the drives do fit very tightly and securely.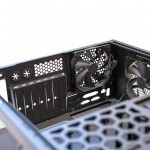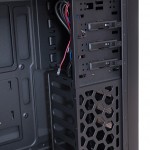 Now that we've taken a closer look inside and outside the case, we think it's time to throw in some hardware to see how this case performs where it matters.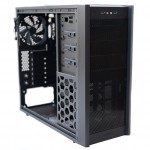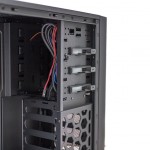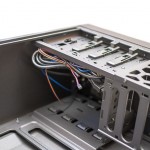 Testing & Performance
Hardware installation in the One went well, although with our ATX motherboard we found it was a bit tight, but nothing too difficult. It was the same story with the power supply but once the big parts were in, everything else was easy and efficient. Especially the CPU cooler and cabling, thanks to the generous space the One offers behind the motherboard.
Our testing system for the Antec One was made up of the following:
| Component | Model | Buy | |
| --- | --- | --- | --- |
| CPU | Intel Core i5-2500K Socket 1155 | US | UK |
| CPU Cooler | Noctua NH-U12P SE2 | US | UK |
| Motherboard | Asus P8Z77-V LX | US | UK |
| GPU | Sapphire HD 7850 2GB | US | UK |
| Memory | 8GB Corsair Vengeance DDR3 1600MHz | US | UK |
| PSU | Corsair TX 650W V2 | US | UK |
| Operating System | Windows 7 Ultimate 64-bit | US | UK |
We ran an array of tests that included gaming, rendering and benchmarks for extended periods of time to see the maximum temperature reached. We also monitored the acoustics of the case, but unfortunately we do not have any specialist equipment except a pair of fully functioning ears.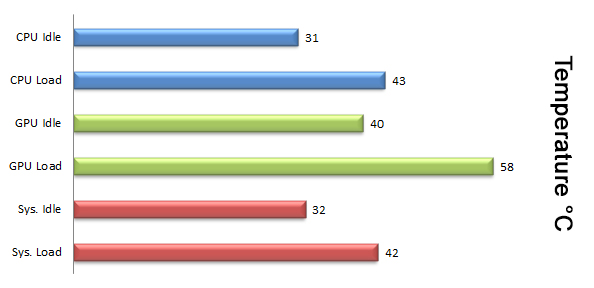 Note: Room temperature stayed between 22.4-22.6°C
[pullquote_right]…the One performed very well and the temperatures were very satisfactory…[/pullquote_right]The results are great for the little One, showing increases of at least 10°C+ under full load. Of course, when you have a small enclosure such as the One the heat builds up quicker due to the smaller internal volume compared to a bigger enclosure with the same ventilation and cooling. With that said, the One performed very well and the temperatures were very satisfactory. The nifty little ventilation features Antec has included definitely help a lot with air flow and keeping the system as cool as possible. In terms of acoustics, the performance is also great. The One does not produce any annoying or very audible vibrations, so it is very quiet unless you put your ear to it on purpose.
Conclusion
Antec have clearly succeeded with this case. What they have done is produce a high quality, feature-packed, budget case that is sure to attract those first time builders and seasonal system integrators on a budget – and they sure are in for a treat.
The One's lightweight but solid body, combined with the attractive all-black theme and features such as USB 3.0, large CPU cooler cut-out, ample space for cables plus the two included 120mm fans as well as liquid cooling support really speaks for itself. All of this in a BUDGET case for only $44.99/£44.99 is truly astounding and really makes the Antec One case stand out.
Highly recommended.
Pros
+ Looks great, all-black theme extended to interior of case too
+ High quality construction
+ Good ventilation features, runs cool and quiet
+ 2 x USB 3.0 ports and USB 3.0 to 2.0 adapter included
+ 2 x 120mm fans
+ Tool-less features
+ Flared side panels allow extra room for cables and larger fans
+ Large CPU cut-out
+ PSU dust filter
+ Liquid cooling support
+ Fantastic price
Cons
– PCI slots not tool-less
– Some may find HDD cage a bit fiddly
The Antec One can be bought for an incredible low price of $44.99 shipped (US) or £44.99 shipped (UK) from Amazon, who are the cheapest retailers at the current time of writing.
Click here to buy from Amazon US!
Click here to buy from Amazon UK!