We're back again with even more lanterns, but this time a bit more traditional. Click here to read the pumpkin lantern review. These are most likely the type you see around floating around in odd formations or on a solo flight. Ideal for any type of celebration, whether a birthday party, weddings, New Year's parties or festivals, they're always a welcome and warm addition. Today we'll be looking at some coloured sky lanterns from NightSkyLanterns.co.uk!
I'd like to thank NightSkyLanterns.co.uk for very kindly supplying us a sample for review. Please visit their site and check out their other great products!
From NightSkyLanterns:
Because of the colour, the lanterns emit warm glows in the night sky. Each of the coloured sky lanterns are individually wrapped with a preattached non drip fuel cell and fully illustrated instructions.
All our Sky Coloured Lanterns are in full retail packaging which makes them perfect for presents as well as personal use. This ensures your Sky Lanterns arrive in excellent condition and minimises the risk of any damage.
Features:
Safe non-flammable lantern
100% wire-free & biodegradable
Non-toxic & odour free
Non-drip, easy to light fuel cell
Individually wrapped for protection
Up to 20 minutes flying time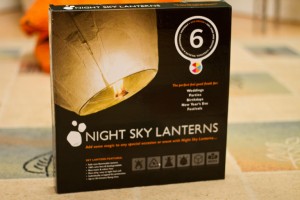 The pumpkin lanterns came in a solid cardboard box and each lantern was neatly wrapped in its own plastic packaging. This ensured they arrived in working order without any damage, and we can safely say that was the case.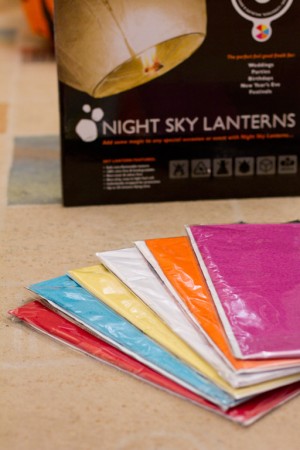 Much like the pumpkin variety, the lanterns themselves were very high quality and didn't seem susceptible to tearing or other damage easily. After using other cheaper Chinese lanterns, it is easy to accidently create a hole and effectively make the lantern useless. Fortunately, that did not happen once with these lanterns.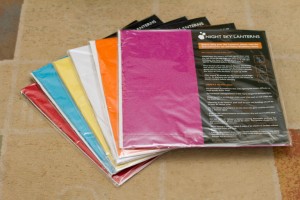 The colouring of the lanterns were very vivid and saturated which is much more than can be said for the cheaper and lower quality ones you find from some other brands, and it means once the lantern is lit, the colour can actually be seen in the sky rather than being overpowered by the yellow flame from the fuel source. Even when the lantern floats off far into the distance, you can still clearly see its actual colour and not just a yellow flickering orb of light.
Again, these sky lanterns are eco-friendly like the pumpkin ones so they are also non-toxic, 100% wire-free, non-flammable and biodegradable. This time these lanterns are odour free!
Check out the coloured lantern in action!
We found that these coloured lanterns took off quicker than their pumpkin counterparts, possibly due to weight differences or internal volume. Either way, both types didn't take long and both were a joy to witness ascend off into the darkness. The fuel source was quick to ignite and it wasn't long before these lanterns left our hands.
Conclusion
With Halloween and Bonfire Night literally days away, these sky lanterns are a guaranteed hit with everyone and add a beautiful touch to your garden party. Even if there's no special occasion, these are great fun to use and are definitely recommended, not to mention they're great as a gift. Priced at £17.99 for a pack of 6 from NightSkyLanterns.co.uk, we're sure both adults and childen will enjoy them alike! Grab a pack of these, or some of the other lanterns at NightSkyLanterns.co.uk and we're sure you'll love them!