You've probably seen them floating high up in the sky before, and at first, you might have thought you had your first spooky UFO sighting. Well, at least that's what happened to me. But regardless of how many times you see them, they're always a beautiful sight to see in the night sky. Today we'll be looking at some pumpkin themed flying Chinese lanterns from NightSkyLanterns.co.uk – perfect for Halloween!
I'd like to thank NightSkyLanterns.co.uk for very kindly supplying us a sample for review. Please visit their site and check out their other great products!
From NightSkyLanterns:
Celebrate Halloween by sending a Pumpkin lantern flying up into the sky.
This eerie glowing Pumpkin Lantern will fly for up to 20 minutes and can reach a height of over a mile in the sky. These Lanterns have a spooky Pumpkin face on each of the 4 sides, and will therefore be visible for miles around!
Traditionally used in Chinese and Thai celebrations, flying lanterns are a beautiful and fascinating way to light up the sky and growing in popularity throughout the world for all type's of events.
Combining this with the Halloween tradition, we can now offer these superb quality Pumpkin Lanterns to make your Halloween celebrations even more spooky and ghoulish!! These fantastic Lanterns will be a great addition to your Halloween event?!
Made from flame-retardant paper, these fully bio-degradable Lanterns are a great alternative to fireworks, and offer a safe and simple way to create an amazing visual display in the sky!
Features:
Safe non-flammable lantern
100% wire-free & biodegradable
Non-toxic & odour free
Non-drip, easy to light fuel cell
Individually wrapped for protection
Up to 20 minutes flying time
The pumpkin lanterns came in clear plastic packaging, which made more sense than a cardboard box as there were just 4 lanterns in the pack, not to mention it being more eco-friendly.
The lanterns themselves were very high quality and didn't seem susceptible to tearing or other damage easily. After using other cheaper Chinese lanterns, it is easy to accidently create a hole and effectively make the lantern useless. Fortunately, that did not happen once with these lanterns.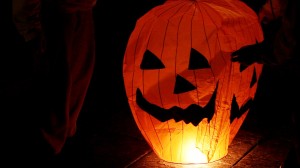 The quality of the pumpkin face on the lantern is also very good. The colouring is perfect and the paper is not so thin that the pumpkin face is blown out due to the light from the flame. Even when the lantern floats off far into the distance, you can still clearly see the face and not just an orange blob.
If you're worried about local wildlife and the environment, you'll be pleased to know that these lanterns are non-toxic, 100% wire-free, non-flammable and biodegradable. The lanterns also claim to be odour-free but in fact they're quite the opposite, they give off an chemical-like odour which is most likely due to the black dye used for the pumpkin face. However, it's the only 'negative' thing that can be said about these lanterns and its nothing of concern.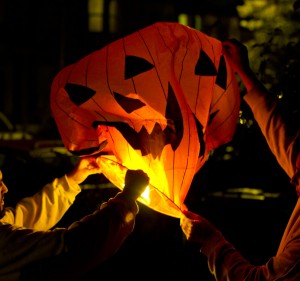 Check out the pumpkin lantern in action! It was a relatively calm night but there were sudden gusts of wind which explain the erratic movements!
The pumpkin lanterns were very easy to light and it did not take long for them to ascend up and take their flight even in mild temperatures.
Conclusion
With Halloween and Bonfire Night literally days away, these flying lanterns would be an awesome addition to your night and are sure to leave a lasting impression on any of those lucky enough to be there! Priced at £13.99 from NightSkyLanterns.co.uk, we're sure both adults and childen will enjoy them alike! Grab a pack of these, or some of the other lanterns at NightSkyLanterns.co.uk and we're sure you'll love them!