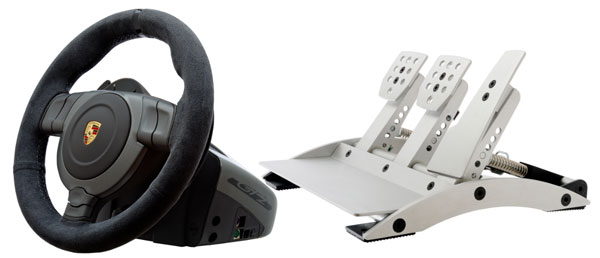 (Landshut, Germany) – Dec 16, 2010 – Fanatec®, a leading brand of high-end input devices for game consoles and PCs, today announced that its new racing wheel is now available and on the way to the first customers.  It is the only Force feedback wheel on the market which is compatible to Xbox 360, PlayStation 3 and PC and so you can all the best racing games on all platforms.
The latest model of the series of Porsche branded racing wheels is the finest model so far and marks a new level of realism for simracing equipment. It uses 100% the same ALCANTARA leather as in the real 911 GT2 car, carbon fiber shifter paddles and pedals made of CNC machined aluminum.
Because of the unique TUNING function you can tune many essential settings like steering sensitivity or brake sensitivity even on games like GT5 which do not support this adjustability in the game. You can even stop the shaking on the straights in GT5.
The ClubSport pedals with its pressure sensitive brake with ABS vibration gives you almost an unfair advantage over anybody else.
The 911 GT2 wheel is available in several versions starting from 249,95 €/USD up to 499,95€/USD for the ClubSport edition. Fanatec offers a range of accessories like shifter sets, pedals or mounting options.
Key features 911GT2 ClubSport Edition:
Multiplatform compatible: Xbox 360, PlayStation 3 and PC
Hand stitched ALCANTARA wheel rim with large diameter (30 cm)
3 Force Feedback motors and smooth belt drive – deliver sensational realism
Two gear sticks included: 6+1 speed and sequential
Super high resolution magnetic and optical sensors on wheel and pedals
Pressure sensitive brake with ABS vibration
TUNING function to change force feedback effects, sensitivity, ABS level, dead-zone, drift mode,  etc.
Illuminated buttons show the correct symbols on every console
Features: http://www.fanatec.de/html/index.php?id=2302&lang=en
Pictures: http://www.fanatec.de/html/index.php?id=411&lang=en
Pricing: http://www.fanatec.de/html/index.php?id=110&lang=en
This product is available exclusively in the webshop on www.Fanatec. com
About Fanatec
Fanatec is a leading brand of high-end input devices for game consoles (PlayStation® 3/Xbox® 360™) and PCs. Designed and manufactured by parent company ENDOR AG, the brand's focus is centered solely on offering highly innovative and highly functional products designed to enhance and maximize the gaming experience.  The brand is sold in Asia, Australia and Europe through distributors and in the U.S. directly through its ENDOR AG USA LLC subsidiary.  Headquartered in Landshut, Germany, ENDOR AG was founded in 1997.  To learn more about the Fanatec lineup of products, visit www.fanatec.com or visit the community website at www.911wheel.com