In this review, we take a look at a piece of equipment commonly used by film-makers to achieve those smooth, cinematic shots. We are of course talking about camera sliders, which up until recently have been extremely expensive for what they are. Thanks to modern DSLRs which have video capabilities, we are now seeing a surge in demand for affordable sliders to make that impressive DSLR footage look even better.
Today, we will be looking at the DEV-1000 DSLR Video Track Slider from Glide Gear. Priced at only $99 and made of solid machined aluminium, is this the best budget camera slider?
Specifications:
Length: 23.6″ (60 cm) aluminum track
Max load: 9 kg
Optimal load: 0-6 kg
Swivel/Pan head compatible
Tripod compaticle
Self-lubricating rails and bearings
Made with anodized aluminum
Compatible with thread sizes: 1/4″ and 3/8″
Dimensions: 23.6″ x 3.5″ x 2.7″ (60 cm x 9 cm x 7 cm)
Weight: 1.9 lbs (862 grams)
Features:
Portable
Tension adjustment knob with locking feature
Quick and easy set-up
Versatile: can be used with a tripod or on a flat surface with its included feet
Spirit level on sled included
Beautiful super polish finish anodized aluminum
What's in the box?
23″ camera sliding rails
Camera mount platform
2 x Detachable feet
4 x Hex screws
Hex wrench
1/4″ to 3/8″ thread adapter
User Manual and valid warranty
What exactly is a camera slider?
It is basically a scaled down dolly with fixed length rails (in this case 24") which can be mounted on one (or more) tripods, or simply set on the ground if it has feet. Mounted on the rails is the actual slider itself with a screw thread allowing you to either directly mount your camera on top, or mount a tripod head with your camera attached to that. The tripod head is the better option as it allows more control of your camera direction and tilt, etc… But it is an additional cost which may end up being just as much as the slider itself! You then simply push or pull the slider/camera to achieve that smooth, dollying effect. Sliders give you the ability to create such effects in big AND small spaces with minimal effort and cost.
Most sliders fit into one of two types:
Friction-Based:
+ The more affordable of the two
– May not be as smooth as its roller-bearing counterpart
Roller-Bearing:
+ Offers smoother movement
– Can be very expensive, especially motorized versions.
The Glide Gear DEV-1000 is a friction-based slider made of machined aluminium. It uses one block of metal for the rail, one for each of the legs and one for the camera mount platform. This makes the slider VERY sturdy as the individual parts are made up of just one piece of metal, so there is no sagging or flex even if you throw on a heavy camera/lens combination.

The slider obviously comes disassembled, but thankfully comes with all the tools required to put it together and it only takes two minutes to attach the platform and feet on tightly and then you're good to go. On the bottom of the feet are handy rubber grips to prevent the slider from slipping on uneven or slippery surfaces.
The rail is 60cm/24″ long and has multiple mounting points for attaching it to a tripod or tripods if you want that extra stability or for vertical sliding. The length of the slider is a good balance between lightweight/portable and having enough sliding distance for the dollying to look effective.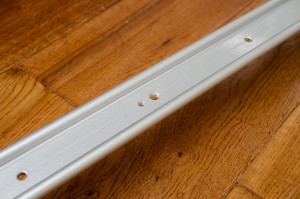 On the camera mount platform there are 4 points, 1 in each corner for mounting a quick release plate. In the centre is the mounting thread for attaching the camera directly, or for attaching a tripod pan/tilt or ball head. Glide Gear have thoughtfully provided a 1/4″ to 3/8″ thread adapter if your tripod head requires one. There is even a spirit level to ensure your shots are indeed level.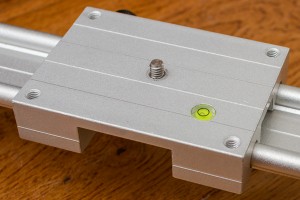 The bearings are made of plastic, are self lubricating and contain no moving parts. This is great as it requires virtually no maintenance and and much quieter than its roller-bearing counterparts. It isn't quite as smooth as a roller slider, but all that means is you'll have to master the sliding movement hand-eye coordination a bit better, but you'll still get silky smooth results.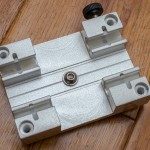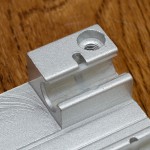 On the side of the platform, there is a knob for locking the camera mount platform in place. This is very useful for stopping the slider from accidentally slamming to one side when you have your heavy camera and lens on top causing a very expensive accident. Unfortunately, it can't be used as a friction adjustment for gravity assisted slides – you'll have to use your hands for that but it isn't too hard to master.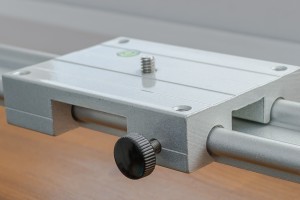 So the big question is…How does it perform in the real world? Check out the below video:
Please note: All the shots in the video were used with the camera directly mounted on the slider. We did not use a tripod head.
Conclusion
The Glide Gear DSLR Slider is very impressive despite its very low cost. It is built brilliantly, comes with all tools and accessories and most importantly it performs brilliantly. We think at this price, this must be the best budget slider available considering its build quality. To make using the slider a lot easier, it is recommended you buy a decent tripod head to mount on top. We bought a Manfrotto MH293A3-RC1 293 Aluminium 3 Way Head with RC1 Quick Release (Buy: US | UK) which works perfectly and makes the slider a million times easier and quicker to use.
For $99, this is a fantastic piece of kit to add to your collection if you are on a budget but still want those high quality cinematic shots in your videos. Highly recommended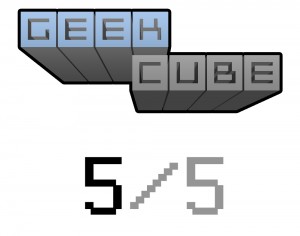 You can buy the Glide Gear DEV-1000 DSLR Camera Slider from GlideGear.net or Amazon from the links below:
…and if you're interested in the tripod head we used check out the links below: