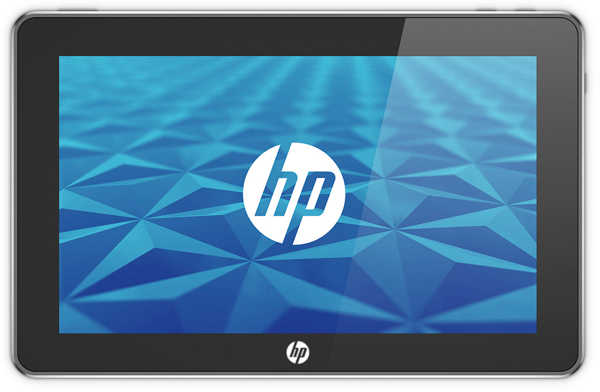 Who could have predicted that Apple would actually be undercutting the competition in tablet pricing? As the tablet wars really begin to heat up, HP just announced the availability of their Slate 500, an 8.9 inch Windows 7 tablet that will cost $799 (The Samsung Galaxy Tab came in at $599). Aimed squarely at the enterprise and business community, the tablet is packing an Atom Z540 processor, 2GB of RAM, a 64GB SSD, HDMI out, and 3MP back and VGA front cameras. It also comes with a Wacom stylus called a Digitizer for note taking and diagramming.
According to Engadget, the device feels sturdy and is lighter than other 10 inch tablets in the arena. They praised the addition of the Wacom pen due to the cramped feel of the virtual keyboard on a smaller screen. As it is running Windows 7 Professional on an Atom Z processor, this won't be the speediest tablet to hit the market, but if it's targeted at the business workforce, it most likely be more than enough for basic productivity needs. Read on to see the full press release.
[line]HP Statement
The new HP Slate 500 Tablet PC is designed specifically for business, enterprise and vertical customers looking for the mobility of a tablet, the familiarity of Microsoft Windows 7 and the ability to run custom or corporate applications.
With a starting weight of only 1.5 lb (0.68 kg), the HP Slate 500 Tablet PC sets a new standard for mobile productivity with a an ultra-thin, sleek form-factor that enables businesses such as retail, healthcare, insurance, education and hospitality to be more intuitive and work efficiently while on the go. The ability to easily incorporate custom business applications differentiates this product and ultimately enhances the user experience and saves time for HP's business and enterprise customers.
The 8.9-inch capacitive multi-touch display of the HP Slate 500 Tablet PC allows users to navigate on the screen with the touch of a finger or with the HP Slate Digital Pen and Evernote® software to handwrite e-mail messages and take notes easily.
The integrated VGA webcam on the front of the HP Slate 500 Tablet PC enables video conferencing, while the 3MP camera on the back can be used for still-image and video capture. With Wi-Fi CERTIFIEDTM WLAN, users can send and receive e-mails or access the internet at work, at home, and favorite hotspots.
The HP Slate 500 Tablet PC will be available first in the U.S. and then evaluated for further market expansion.
Pricing for the HP Slate 500 Tablet PC is $799, and includes the HP Slate Digital Pen, HP Slate Dock, and HP Slate Portfolio.
To learn more about the HP Slate 500 Tablet PC and ways it will enable mobile professionals to increase efficiency, please visit: www.hp.com/go/slate/