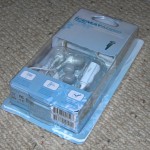 Practically everyone nowadays keeps a pair of earphones or headphones with them wherever they go. With the rapid increase in the number of owners of mp3 players and other portable audio/video players, the demand of high quality audio is ever present. With cheap mp3 players available everywhere, young, old and even technophobes like to listen to music on the go. Of course it isn't just mp3 players that are used on the go, portable DVD players and video players integrated into mp3 players with large screens are a common. Sadly, not all electronics are of high quality, and sound especially suffers as a result of buying cheap.
Today, we will be looking at the Icemat Siberia In:Ear Headset, which is not only a pair of earphones, but also has a microphone – ideal for gamers.
About Icemat:
"The original Icemat was launched in 2000, targeted at one of the most demanding consumer groups in the world: gamers. Since then Icemat has expanded the portfolio and today offers a wide range of products. Everything is created by people who demand as much from the visual design as they do from the performance of the final product.

Our staff is distributed throughout the world, working from offices in Europe, North America and Asia. The Icemat headquarters are located in Europe (Copenhagen, Denmark), and host the primary office facilities for the company. The headquarters handle all planning, production and partner coordination. For logistical reasons we also have sales offices in Asia (Taipei, Taiwan) and USA (Los Angeles, California). From Taipei we can each the entire Asian market, as well as New Zealand and Australia. From Los Angeles we can reach North America, Canada and South America."
Specifications:
Headphone
Frequency response: 30 – 24.000 Hz
Impedance: 16 Ohm
SPL@1kHz, 1V rms: 90 dB
Cable length: 1.0 m + 1.8 m = 2.8 m / 9 ft.
Jack: 3.5 mm
Microphone
Frequency response: 80 – 15.000 Hz
Impedance: 2K Ohm
Pick-up pattern: Uni-directional
Sensitivity (1V/P@1 kHz: -38 dB
The packaging is a neat-looking box which is transparent at the front to show the earphones and everything else that comes with it. As you can see, the packaging is appropriately coloured icy blue to go with the 'ice' theme.
In the box, you get; the Icemat Siberia In:Ear Headset, a microphone, an extension cord for the headphones, two pairs of spare earplugs and a pouch to store the headphones in. With the cable extension attached, the cable reaches a total length of 2.8metres (9 foot) which is fantastic for those who need to plug it into their PCI soundcard on the back of their computer.
As you can see from the picture, the Icemat Siberia earphones are not the type that just 'sit' in your ears but rather 'fit' in your ears. They are designed to cut out background noise so your listening experience is uninterrupted by external sources of sound. Those silicon ends you can see from the pictures are soft and flexible so that they fit to the size of your ear and do not leave many gaps and thus cutting out background noise. With the background noise cut out, it allows you to listen to the great sound quality that these earphones provide (which we will talk about later).
The Icemat Siberia earphones are made of a tough, durable plastic white in colour and glossy. It's not at all flimsy and is clearly well built and made to last. These will not break when you sit on them or crush them in your pocket. We thought the design was great and it goes nicely with most mp3 players – white iPods especially.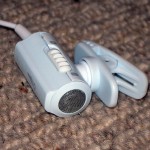 Of course there is the microphone, too. The Icemat Siberia headset also comes with a unidirectional microphone so you can record with any device that allows it. You also get a little clip for the microphone so you can attach it to your clothes for example instead of holding it in your hand. This is likely to also improve the quality of the recording as the distance between your mouth/source is not varying all the time as it would in your hand.
Testing & Performance
We tested the Icemat Siberia headset on the PC and on an iPod. On the PC, we played different types of music, games, and movies just to see how the Ice mat Siberia performs under different conditions. The sound card used was a Sound Blaster X-fi Xtreme Gamer (PCI).
We were a little unsure how these earphones would feel after being pushed into our ears as the silicon 'fins' looked rather uncomfortable. But that was not really the case because we found them to be quite snug and tight. Unlike the iPod stock earphones, these don't feel like they will fall out – unfair comparison I know, but you get the picture. At first they felt a little irritating but then after a few minutes of use you forget they are in there and you just enjoy the greatness these earphones pump out. Not everyone will like the 'finned' in-ear pieces, but the standard smooth ones are likely to be comfortable to most people and if not, then the in-ear type is not for you.
The sound produced by the Icemat Siberia was excellent and much better than expected. Punchy, deep bass and crystal clear treble is what we experienced on both the PC and iPod when listening to music. The bass is probably what surprised us most, and the in-ear design helped by keeping out unwanted noise and keeping in our sound.
After chilling out to some music with the Icemat Siberia, we decided to try it out with some games. We tried Halo CE, Battlefield 2142, FEAR, Half Life 2 and the sound totally immersed us into the games. We could not hear anything but sound from the game which allowed full concentration.
Finally, we tested the Icemat Siberia with Skype – the most popular VOIP software. We phoned a few friends and we also phoned ourselves to hear the quality of the microphone. We found that the microphone was very sensitive and so it had to be placed in the right location depending on what it is used for. When chatting, we clipped it to our clothes (chest area). We could not put it near our mouths and chat because of the air movement being detected by the microphone causing unwanted noise. But as mentioned before, place it in the right area and you will be fine. Also, there's an on/off switch so you can mute the microphone any time. The sound quality from the microphone cannot be faulted. Our recipients reported our voices as being very clear and no problems. Calling ourselves proved this to be true.
Conclusion
Fantastic sound quality, great portability and nice design makes this headset top class and should be considering if you are looking for a great pair of earphones not to mention a good microphone too. The Icemat Siberia headset can be used for anything from your portable DVD player to hardcore gaming sessions and chatting to relatives on the other side of the world. Thankfully, the extension cable, extra earplugs and carry pouch all make this headset very practical. Looking for high quality sound on the go? Look no further. These may be for you.
Pros:
Good design and build
Great sound and bass
Can be used on mobile phones, portable audio/video devices and anything on a PC
Cons:
Microphone a little sensitive to air