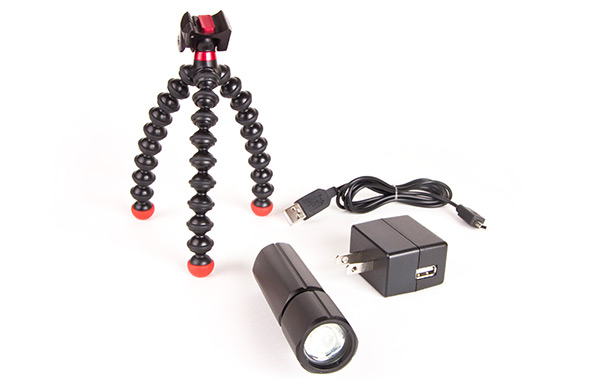 Joby makes some awesome tripods for all kinds of devices ranging from digital cameras and camcorders to iPods and iPhones. They also have the Gorillatorch line of products which uses the intuitive tripod with a flashlight mounted on top making it perfect for times when you need both hands to work.
The latest offering from Joby is an addition to the Gorillatorch line. Say hello to the top of the line Blade flashlight. The Blade is the first in the line to offer a built-in rechargeable battery and now comes with a 130-lumen LED – which means its quite bright. The Blade is also able to be removed from the tripod stand, another first in the line.
The internal rechargeable battery charges from a USB port or can be charged from the wall outlet with the included adapter. The flashlight can pan 360-degrees and tilt 180-degrees and the legs of the tripod have the flexible and articulating adjustability Joby is famous for along with the magnetic feet that are very handy. The light can be adjusted to spot or flood settings. The Blade is available right now for $59.95/£49.95.