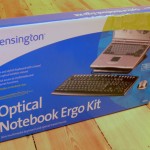 Today we'll be looking at Kensington's latest offering to the laptop user looking to create a home desktop environment in which to work. The Optical Notebook Ergo Kit combines a slim multimedia keyboard with a wireless optical travel mouse designed for notebook users. Kensington have also included a small plastic laptop stand presumably designed to increase productivity for those working with a laptop for long periods of time. However, how does this set perform in reality? We'll be putting the Optical Notebook Ergo Kit through its paces in today's review.
About Kensington:
"For more than 20 years, Kensington Technology Group has been creating innovative products that make the connection between you and your computer more enjoyable and productive. At the office, in the home, or on the move, Kensington computer accessories bring practicality, creativity and inspiration together in a comprehensive line of products that delight users and create lifelong customers."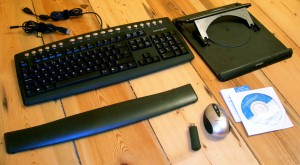 The package was tested on an empty desk with a 17 inch Powerbook G4, in testing the laptop stand itself held up very well. Its simple two-piece design and deck-chair style lifting mechanism work well and most importantly it folds into a flat board-like piece which would easily fit into a laptop bag.
The mouse provided in the set is tiny, this would be expected from a laptop mouse but the laptop stand and full sized keyboard suggest this set is designed for use in a desktop environment, so why so small? Despite this apparent lack of thought, the tracking system itself works very well. The wireless transmitter (included in the set) syncs flawlessly with the mouse and the scroll wheel even flashes blue to indicate wireless activity. Rechargeable batteries are included and a USB charging cable to plug directly into the front of the mouse. In testing the mouse performed well in a number of every day tasks, it performed well in Photoshop, in general use and was fine for a bit of light gaming too. Apart from a few ergonomical issues relating to the size, this mouse is a solid performer.
The full sized keyboard included everything one would expect from a desktop keyboard. Its thin design and rubbery surface texture give the keyboard a robust build quality and a real feeling of quality. The keys have been kept flat and wide to keep the profile of the unit as slim as possible and I'm pleased to say they're a joy to type on; traditional keys have been ditched in favour of ones that compress smoothly when pushed. It truly is an excellent keyboard, probably one of the best in this price range I've ever used. Included are a set of chrome media control keys which line the top edge of the board. These all worked without any driver installation under Windows Vista and are great for controlling music and video. However, the keys do have a tendency to become unresponsive with repeated use, this is particularly annoying for commonly used keys such as the volume controls.
Conclusion
This keyboard and mouse set leaves mixed feelings, the keyboard itself is great, flawless if only for a minor media key issue. The mouse works very well too, it worked perfectly in testing even up to a meter away from the laptop used, however it suffers from ergonomic issues and feels mismatched against the solid full-sized keyboard. Kensington could have supplied a full sized optical desktop mouse giving a much more suitable device at a tiny extra cost to them. Despite a few shortcomings, the Optical Notebook Ergo Kit provides a solid and affordable way to work productively with your laptop.
Pros:
Highly functional equipment overall
Solid keyboard construction
Aesthetically pleasing
No drivers required
Cons:
Desktop sized mouse would have been better suited
Media keys prone to unresponsiveness after periods of use