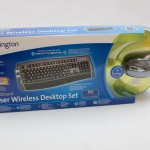 There's always a first for everything and this is our first 'wireless desktop' review. We have been kindly provided a wireless keyboard and mouse combo by Kensington. Almost all of Kensington's products are simple in terms of design and usability, which makes them more attractive than a lot of products that seem to bloat their products with unwanted extras. Today we will be looking at the PilotBoard Wireless Desktop set, and we are hoping it lives up to the high quality and performance that Kensington already has on the market.
About Kensington:
"For more than 20 years, Kensington Technology Group has been creating innovative products that make the connection between you and your computer more enjoyable and productive. At the office, in the home, or on the move, Kensington computer accessories bring practicality, creativity and inspiration together in a comprehensive line of products that delight users and create lifelong customers."
Features:
Secure 2.4 GHz enhanced frequency prevents signal overlap and interception
Advanced laser technology responds quickly to micro movements
Intelligent power management and ultra-efficient sensors provide up to a 9 month battery life, based on an average usage of 8 hours/day, 5 days/week
One-touch multimedia keys instantly launch calculator, email and more
6 programmable mouse buttons reduce repetitive tasks and speed you through your work
Tilt-scroll wheel for 4-way directional scrolling side to side and up and down
Soft rubber mouse grips and cushioned keyboard wrist rest gives you all day comfort
Wireless technology lets you position both keyboard and mouse in their optimal position – up to 30 foot range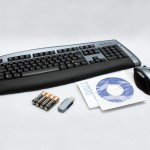 As with all keyboard and mouse, this package contains an RF wireless keyboard and a laser mouse. Personally, we would have preferred the standard wireless technology that Logitech (and others) incorporate into their wireless products, or even Bluetooth. Having to have the wireless receiver in viewable distance sounds like something which could get annoying. We'll see.
From the layout point of view, the keys on the keyboard are smooth and soft to type on, which is one of the main factors. It seems Kensington has taken notes from Logitech by adding the "F" keys at the top. There is a function switch where you can toggle between the regular F1-12 keys and the specially assigned keys. The PilotBoard keyboard is also equipped with a Zoom/Scroll wheel that you can use on the left, while a set of multimedia keys are situated at the very top of the device.
The wireless laser mouse is your common household mouse with two buttons and a scroll wheel. That's basically it. There isn't any innovation going on with either of the peripherals but then again, we aren't looking for it.
Testing & Performance
We tested the signal strength and weren't impressed at all. We had the RF receiver less than 3 foot away from both devices, and yet we were still experiencing heavy lag during gaming and normal sessions. When we were working in MS Word, we noticed the keyboard would take half a second or so before the text appeared. It was very annoying. Playing a first person shooter would be a nightmare. We even tried this in several areas.
Conclusion
Even though the drawbacks slightly outnumber the benefits, the keyboard is certainly one of the softest and silent ones to type on. It was an enjoyable experience. Similarly, the ergonomics of the mouse and the keyboard (with its detachable wrist rest) were also fantastic.
However, Kensington certainly needs to make sure to innovate and release often to stay updated with consumer needs. Now that we are seeing laser devices commonly on the market, RF feels slightly outdated. More importantly, the company needs to release products that don't frustrate users. It can unnecessarily damage a company's reputation and annoys users with products that should be simple to work with. For ~$65, we still think these are a great pair of peripherals but would recommend you research and look at similar products from Logitech, Microsoft, etc and think again.
Pros:
Ergonomic design
Comfortable, quiet and soft.
Looks great
Zoom/Scroll wheel and extra function keys are a plus
Cons:
Frequent lag when used from more than 3 feet from receiver