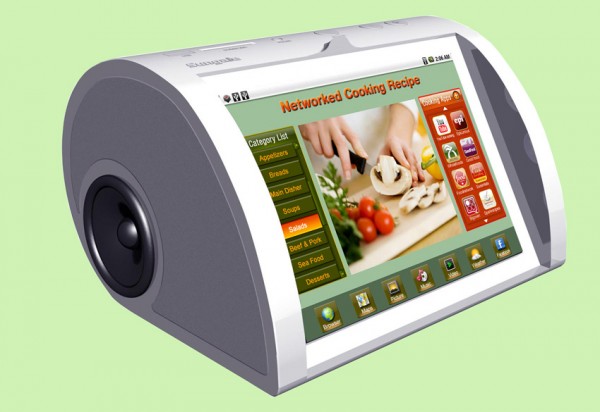 Chino, California, June 28, 2011, Networked Kitchen Recipe, an internet connected cooking recipe that has been anticipated for a long time by the market, is announced by Sungale today.  NetChef™ is the name of the device.
Are you a housewife racking your brain everyday thinking of something different to serve for lunch or dinner? Are you a food enthusiast who's always looking to try out new recipes? Are you a novice cook wanting a simple yet delicious sandwich recipe?  This NetChef™ is just for you!
"NetChef™, this innovative networked kitchen recipe has preloaded up to 500 recipes, and the content can be expanded and updated momentarily from the Internet via Cloud technology", said Mr. Ningjun Sun, President of Sungale, "the left part of the screen is classified by recipe types such as Appetizers, Breads, Main Dishes, Soups, Salads, Beef & Pork, Seafood, Desserts etc, the content is from a specified website.  The right part of the screen is designed for you to search and download recipe websites, recipe applications, cooking video and RSS cooking news from the internet".
With a high-resolution 8" (4:3) touch screen (800×600), this networked Kitchen recipe NetChef™ provides convenient and easy to use operation.  By touching on the friendly assorted function buttons on the screen, the users can navigate to get their desired recipes of choices.  NetChef™ is linked to Internet wirelessly through a home router, the elegant design mikes it especially suitable for a kitchen counter, and two hi-fi speakers are added for enjoying music while cooking, a built-in 2GB memory is used to store all your favorite recipes, and external memory can be expanded to 32GB.
"We welcome the owners of recipe websites and recipe apps to contact us to preload your channels and apps in NetChef™", and you will find the streaming volume will increase substantially with the sales of NetChef™, which will benefit both parties", added Mr. Sun.
"For the people who like to watch Youtube cooking videos, we have integrated Youtube most popular cooking channels in NetChef™", said Mercy Ting, Sales Consultant of Sungale, "I, myself is a great fan of cooking, I always buy those nice cookbooks that have colorful pictures of dishes. Now, with NetChef™ I can save money and space by doing away with those super thick cookbooks.  This device is a all-in-one!".
According to Mr. Sun, samples of NetChef™ will be available by middle of July 2011, and the product will be available by around beginning of August.
About Sungale
Founded its US office in 2001, Sungale, with its production facilities located in Shenzhen, China, has been in the US market for 10 years.  Sungale is a premier designer and manufacturer of Digital Products, with many years of experience as an OEM supplier and leading supplier of state-of-the-art digital products. Sungale is committed to actively keeping pace with today's rapid innovations in the field of Digital Products. Through our devotion to cutting-edge technology, exceedingly stringent quality control system and dedication to customer satisfaction, Sungale's products are known for their superior durability, applicability and affordability.
Product page: http://www.sungale.com/index.asp?m=showpro&c=recipe&p=PF809