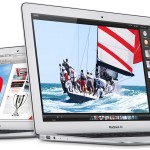 Aside from the big iOS 7 unveiling at WWDC, Apple has announced updates to other products in its line-up. Amongst them is the MacBook Air which has been refreshed to provide more power, improved graphics, faster Wi-Fi and a longer battery life. Unfortunately, no Retina display this time either.
Both the 11.6-inch and 13.3-inch variants have been built using the power efficient Haswell processor from Intel, which also greatly improves graphics performance. The most significant improvement is to battery life: the 11.6-inch version now boasting 9 hours of juice, compared to 5 hours for the previous iteration. The 13.3-inch big brother packs a hefty 12 hours versus the old 7 hours, offering "all-day" battery life. Apple has also given the new models 802.11ac Wi-Fi, which pretty much means it is a faster and operates on a longer-range.
All of this yet still at a lower price point than the previous generation with the larger 13.3-inch version starting at $1,099/£949 with a 128GB SSD, or $1,299/£1,029 with a 256GB SSD. The smaller 11.6-inch MacBook Air will start at $999/£849 with a 128GB SSD, or $1,199/£1,129 with a 256GB SSD.
So, are you be looking to buy one of the new MacBook Airs? We don't mean to sound like a broken record, but past experience has taught us a few lessons – PROTECT YOUR GADGETS! We totally recommend GearZap.com for MacBook Air 11 cases. as well as for the 13-inch variant. Whether you're into sleeves, hard cases, pouches or any other type of protection/transportation housing, GearZap.com will have it!
Full specs and features can be seen on the Apple website by clicking here.