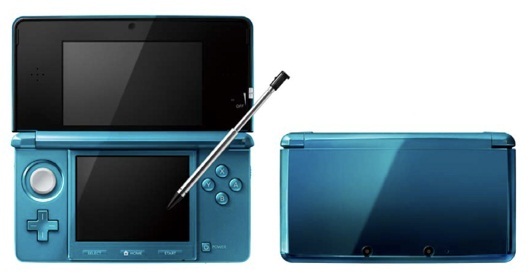 At a Tokyo press briefing, Nintendo announced that its new 3DS handheld will release in Japan on February 26, 2011 for ¥25,000 (approximately $300). The device will then land in the US and Europe in March for an undisclosed amount. As reported by VideoGaming247, the initial launch will offer Aqua Blue and Cosmo Black colors.
During the presentation, Nintendo CEO Satoru Iwata said that a 3DS version of Wii's Virtual Console download service will feature Game Boy and Game Boy Advance titles, with some "classic games" updated and re-released in 3D. Full story and video after the jump…
The company also announced the migration of Miis to the 3DS, and demonstrated the Mii creation studio during the press event. The feature allows users to photograph their face using the console's front-facing camera and automatically have it turned into a Mii. Images can then be converted into a QR code in wireless "tag mode" or as a file to the bundled 2GB SD card.
Nintendo did not share details of a software lineup. However, a video displayed at the event showcased numerous 3DS titles, including: Kid Icarus, Super Street Fighter IV, Resident Evil: Revelations, Samurai Warriors, Dead or Alive, Pro Baseball Spirits, Metal Gear Solid, Paper Mario, Chocobo Racing, Super Monkey Ball, Star Fox, Animal Crossing and a 3D version of Zelda: Ocarina of Time.
The Nintendo 3DS was first unveiled at the company's 2010 E3 press conference. The new handheld console uses a process called autostereoscopy technology to produce "3D effects without the need for any special glasses."