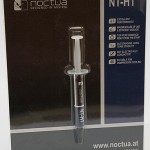 We've recently taken a look at some of Noctua's products and they have all been of the same category – fans. What we're looking at again is another Noctua product but this time it's some thermal compound! Today, we will be looking at Noctua's NT-H1 Thermal Compound.
About Noctua:
"Noctua aims at establishing a new level of quality and performance "Designed in Austria" through paying attention to the users' needs in a market burdened with all kinds of frills and furbelows and providing sound-optimised premium components, which serve their purpose in a smart, precise and reliable manner."
Specifications:
Volume 1.4ml (for at least 15 applications)
Specific Gravity 2.49 g/cm³
Colour grey
Recommended storage time (before use) up to 2 years
Recommended usage time (on the CPU) up to 3 years
Peak operating temperature -50°C to +110°C
Recommended operating temperature -40°C to +90°C
Features:
Superb thermal performance
Excellent ease-of-use
No "burn-in" time
Outstanding long-term stability
Not electrically conductive
Suitable for compressor cooling
The Noctua NT-H1 thermal compound comes in a clear plastic package with the syringe displayed on the front through the clear plastic. On the back of the package there is a list of specifications and some typical performance numbers.
When you open the package, you'll find a large syringe filled with the NT-H1 thermal compound. The syringe contains 1.4ml of compound, which doesn't sound like much but according to Noctua it is enough for at least 15 applications.
If you look at the features of the product, you should notice some of the features that aren't seen, such as non-conductive, no burn-in time, non-curing and so on. These features are quite important, especially the non-conductive feature of the compound. This prevents any accidental short circuiting and other failures due to an excessive amount of thermal compound applied.
Testing & Performance
To test out the NT-H1 thermal compound, we applied the compound to a CPU application. We found it to be very much like to that of our favourite paste, the Arctic Silver 5. The NT-H1 paste is actually more viscous than the AC Silver 5 which made it slightly more difficult to apply.
Test System:
Intel Core 2 Quad Core (Q6700) @ 2.4GHZ Stock
MSI P6N SLI Platinum
MSI NVIDIA Geforce 8600 GT
OCZ GameXtreme 700W Power Supply
Windows Vista Ultimate Edition x86
Antec Nine Hundred
Idle temperatures were taken running Windows idle for 30 minutes, and full loads were taken while running Prime95 for 30 minutes.
Results
| Condition | w/OCZ Vanquisher |
| --- | --- |
| Idle | 25°C |
| Load | 34°C |
Very impressive temperatures to say the least. The NT-H1 compound performed brilliantly and is definitely a good competitor to the Arctic Silver 5.
Conclusion
We were impressed by the performance of the Noctua NT-H1 thermal compound, especially considering this is Noctua's first attempt at such a product. The compound delivers excellent performance that is equal or even slightly better than the some of the better-known thermal compounds such as Artic Silver 5. Definitely recommended and consider it if you're looking for some thermal compound.
Pros:
Non-curing
Great performance
No burn-in time
Cons:
Harder to spread than some