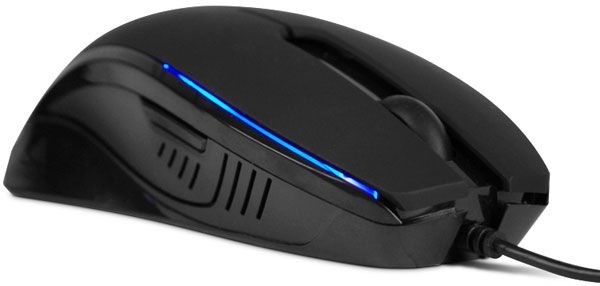 It seems that the people at NZXT love gamers almost as much as they hate vowels. The company today took the wraps off of the Avatar S, a replacement for the already discontinued Avatar gaming mouse. The new model doesn't quite match the 2,600DPI of its predecessor — instead it's got a 1,600 DPI laser sensor with three sensitivity settings: 1,600DPI, 800DPI, and 400DPI. The finned peripheral's five buttons are configurable, as is the LED lighting scheme and X-Y sensitivity — customization that can be saved to the device's 16Kb of onboard memory. The mouse has a polling rate of 1000Hz and does tracking at 30 inches / second, and those little Teflon feet should help you move the thing around a bit more easily. The mouse comes in both black and white will run you $39.99 when it launches at the end June — $20 cheaper than its predecessor's launch price, or $10 per fin. Press release after the break.
Precise and versatile mouse features optimal personalization, slim ambidextrous design, and onboard memory for saving customized settings for gaming on-the-go
El Monte, CA – May 24, 2011 – NZXT, a company built on realizing the dreams of gamers worldwide, is proud to announce Avatar S, the latest addition to their award-winning line of gaming mice. Avatar S empowers PC Gamers and enthusiasts with simple, precise gaming control, and an array of intuitive, innovative features. Similar to the original Avatar, Avatar S is sleek and stealthy in design boasting an ambidextrous, low profile, light form factor crafted with Teflon feet ideal for making quick powerful movements on any surface.
Avatar S enables complete personalization with a DPI switch that adjusts 1600/800/400DPI in-game without the hassle of downloading different drivers. Gamers can also custom configure in-game macros, 5 media keys, X-Y sensitivity, and LED lighting and then save the personalized settings onto the onboard 16Kb memory making it an ideal solution for on-the-go gaming.
"We designed Avatar S as an intuitive solution that gives gamers maximum personalization with minimum hassle" said Johnny Hou, Founder and Chief Designer at NZXT. "Your profile settings can be easily configured and then saved onto the onboard memory in case you game on multiple rigs. When gearing up at a LAN party, the last thing gamers should have to worry about is whether or not their mouse is configured correctly. Avatar S eliminates that headache."
Source: NZXT