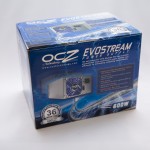 Every time OCZ releases a new product, everyone is quick to check out their latest offerings. If my memory serves me right, one of those times was when the XTC heat shields were released, everyone talked about it. Well, it seems OCZ are once again back into our hardware discussions with the EvoStream 600W Power Supply.
The EvoStream 600W power supply seems to be what most power-hungry users are wanting. A three year warranty and the great reputation that OCZ has may make the EvoStream an extremely popular choice – for everyone. And if that is not enough, this new beast from OCZ also sports quad 12v rails.
About OCZ Technology:
"Entering the memory market in August 2000, OCZ Technology was built around the determination to manufacture the best high speed DDR and RDRAM. OCZ was founded by enthusiasts, for enthusiasts, and our commitment to the end-user has not digressed. OCZ Technology has been an innovator in many areas. We were the first manufacturer to make Dual Channel optimized memory available to the public, which originally took advantage of nVidia's Twinbank or Dual DDR architecture, found in their nForce chipset. We have now taken that technology and tailored it for the Canterwood, and Granite Bay chipset's. OCZ developed and was the first to implement ULN technology, which has been a critical element in our manufacturing process for some time. We at OCZ diligently work to improve communication with CPU and motherboard chipset manufacturers prior to the release of their products. Only in this manner can we fine-tune our memory's SPD settings, ensuring a synergistic relationship between the memory module, memory controller, and microprocessor. In today's rapidly evolving semiconductor industry, such communication is not simply research, but a necessary component of our manufacturing process."
The packaging of the EvoStream should be very familiar to you if you already own an OCZ power supply. The features and specifications are shown all over the box which clearly shows OCZ are proud of their product.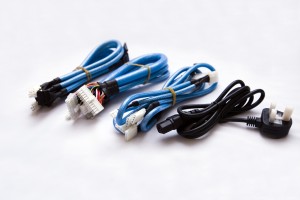 As per usual, power supplies do not come with much stuff included and this isn't any different. In the box, we get screws, the extension cables and the power supply unit itself. You also get a three year warranty which is great, especially if you plan on pushing it to its limits.
Specifications:
ATX12V v2.2 and EPS12V
OCZ ConnectAll™ universal connectors:

1 x 20+4Pin ATX
1 x 4-pin/8-pin CPU
– 2 x PCI-E
2 x 4-pin peripheral (1+1 4-pin Conn.)
1 x 4-pin peripheral & 4-pin floppy
1 x 4-pin peripheral
2 x S-ATA (1+1 SATA)

High efficiency
75% @ Full load
Overvoltage/Overcurrent/Short-Circuit protection
Active PFC
115Vac 60Hz / full range 240Vac 50Hz
+3.3V(20A), +5V(30A), +12V1(15A), +12V2(15A), +12V3(15A), +12V4(15A) Maximum ratings are shown.
The first thing that may be attractive to you is the slick gloss black finish. The finish is one that gathers a lot of fingerprints, but a little wipe and you're back to shininess once again.
Another note before we get into more detail is that the Evo is a little longer than your average power supplies by around 10mm. So make sure you have plenty of room to house it and enough room for the cables at the back.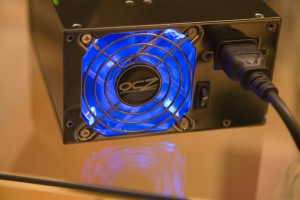 The EvoStream is cooled by a single 80mm fan (with blue LEDs) which was a bit surprising since we usually see dual 80mm fans or even a 120mm fan thrown in which would assist in the overall cooling of the unit. We don't know the reason for the usage of the 80mm, but we can say that it is sufficient and does a good job of keeping the box cool. The noise produced is definitely acceptable and it does not produce an annoying hum.
Now for one of the best features of the unit – the front. As you can tell the unit is completely modular, even the main ATX connector. This gives the user the option to use only the cables which he/she needs, resulting in a neat and tidy installation as well as increased airflow within the case.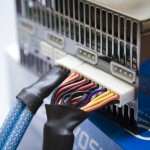 The cabling also is a great feature. Each cable is actually sleeved! From end to end each cable is sleeved with a blue shielding. Sometimes sleeving is only done partially, leaving the ends with inner wires exposed. Not this. The EvoStream offers the entire length of the cable is covered except on the ATX connection (due to size). The cables are also surprisingly flexible so they can bend in and around any obstacles in your case.
Testing & Performance
We tested the PSU on the following PC:
AMD Athlon 64 3000+ @ 2.3GHZ
1GB DDR PC-3200 Kingston RAM
Gigabyte GeForce 7600GS 256MB
80GB Seagate 7200RPM HDD
250GB Maxtor S-ATA HDD
| | | | | | | |
| --- | --- | --- | --- | --- | --- | --- |
| Rail: | 3v | 5v | 12v1 | 12v2 | 12v3 | 12v4 |
| Idle | 3.33 | 5.02 | 12.20 | 12.19 | 12.19 | 12.20 |
| Load | 3.35 | 5.04 | 12.20 | 12.20 | 12.19 | 12.19 |
We already predicted a great performance judging by the manufacturer and the product's target audience. Very stable rails, all four of them in fact. Clearly, the EvoStream is very stable and would be an excellent choice for gamers and overclockers alike.
Conclusion
If your system needs some juice to perform like it should, the EvoStream is definitely a power supply you need to take into consideration. Featuring four 12V rails and 600 watts of raw power, the EvoStream packs a real punch.
The looks and the sleeved cabling are also a welcome feature as this makes for a very clean and tidy install. We thought the idea of choosing your desired cables was excellent and also helps with keeping a tidy cable system and increasing airflow.
Pros:
Ample amount of power
Modular blue cables
Stable
Warranty
Cons: