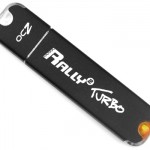 When you think of OCZ Technology, you are most likely to think of their high speed memory products, such as flash memory and good old system memory. OCZ Technology don't just make average products, as many of us have come to know. The general idea behind all of their products is speed, and speed is what we get. One of OCZ's latest products to show off their innovation is the Rally2 Turbo Flash Drive, and today this is what we will be looking at. This sleek looking aluminium drive is all about speed, or to quote OCZ 'blazing speed'.
About OCZ Technology:
Entering the memory market in August 2000, OCZ Technology was built around the determination to manufacture the best high speed DDR and RDRAM. OCZ was founded by enthusiasts, for enthusiasts, and our commitment to the end-user has not digressed. OCZ Technology has been an innovator in many areas. We were the first manufacturer to make Dual Channel optimized memory available to the public, which originally took advantage of nVidia's Twinbank or Dual DDR architecture, found in their nForce chipset. We have now taken that technology and tailored it for the Canterwood, and Granite Bay chipset's. OCZ developed and was the first to implement ULN technology, which has been a critical element in our manufacturing process for some time. We at OCZ diligently work to improve communication with CPU and motherboard chipset manufacturers prior to the release of their products. Only in this manner can we fine-tune our memory's SPD settings, ensuring a synergistic relationship between the memory module, memory controller, and microprocessor. In today's rapidly evolving semiconductor industry, such communication is not simply research, but a necessary component of our manufacturing process.
Specifications:
Observed dimensions: 68 x 8 x 15mm
High Speed USB 2.0 Certified
Factory Rated Max Read Speed: 35 MB/sec
Factory Rated Max Write Speed: 30MB/sec
Lifetime warranty
Available in 8GB and 4GB sizes
Microsoft Plug and Play and Mac OS X compatible
Aluminium Chassis
Design
Unlike a lot of flash drives, the Rally2 Turbo comes in proper packaging and some useful extras. Included with the Rally2 Turbo is a neck strap which connects to the drive itself as opposed the lid, and also a 2 foot extension cable for when you don't have a front USB port handy.
The Rally2 Turbo is housed in black anodized aluminium casing. The OCZ company logo is printed in white on one side whilst the other side has 'Rally2 Turbo' printed. The rear end of the Rally 2 Turbo displays the drive capacity – 4GB in our case, but 8GB is also available. As previously mentioned, it's the drive which connects to the neck strap and it's the rear end. The part the strap hooks on to is a clear plastic which allows the orange LED to glow when powered, or when there is activity.
Testing & Performance
To see how fast the Rally2 Turbo really is, we have to do some performance tests. For this test, we used HD Tach which gave us average read and burst speed in MB/sec as well as random access speed times. Our test system had the following specs:
Intel Core 2 Quad Core (Q6700) @ 2.4GHZ Stock
MSI P6N SLI Platinum
MSI nVidia Geforce 8600 GT
OCZ GameXtreme 700W Power Supply
Windows Vista Ultimate Edition x86
Results
Burst speed: 31.2MB/s
Average Read: 30.6MB/s
Random Access: 0.7ms
Impressively quick as you can see. But results from a program like that don't really mean much in a practical sense. To give you a real sense of speed, we undertook a practical test. We copied a 900MB folder full of RAW files. With the Rally2 Turbo took 2:25 minutes and with a generic 4GB drive, this was done in a measly 3:39 minutes. That's over one whole minute slower – very impressive.
Conclusion
The Rally2 Turbo definitely impressed us with its magnificent speed. Not much can be said of the HD Tach results, but when put into practical terms, you can see how fast the Rally2 Turbo really is. Now just imagine if the folder was 4GB or 8GB – the difference would be huge. Aside from the great performance, the Rally2 Turbo's sleek aluminium is another thing going for it. The OCZ Rally2 Turbo is the fastest flash drive we have seen here by far. You also get the lifetime warranty with the Rally2 Turbo. It doesn't get much better than this.
Pros:
Very fast
Available in 4GB and 8GB sizes
Nice design
Neck strap
Cons: