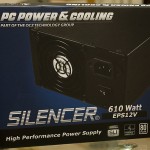 If you're one serious enthusiast, the name PC Power & Cooling should remind you of top power supply goodness. PC Power & Cooling is very well known for some of the top power supplies in the market. PC Power & Cooling was bought by OCZ Technology, however, the effects of the takeover are not shown or felt as they've continued to put out strong, new products. Today, we will be looking at the Silencer 610 EPS12V PSU.
About PC Power & Cooling:
"On April 19,1985, PC Power & Cooling began operations in a small warehouse just outside of San Diego, CA. Founded by Doug Dodson, a commodity trader and electronic hobbyist, the company's first products were custom fans to cool and quiet computers."
Specifications & Features:
610W Continuous @ 40C (670W Peak)
Up to 90% (10dB) Less Noise per Watt
EPS12V / NVIDIA® SLI Certified
80+ Certified (83%); .99 Active PFC
+12VDC @ 49A (Large Single Rail)
24-pin, 8-pin, 4-pin M/B Connectors
2 PCI-E and 15 Drive Connectors
Automatic Fan Speed Control Circuit
Black Finish (Copper on request)
5-Year Warranty and Tech Support
Cable Lengths and Connectors:
Molex: 8 Connectors
1x 20" (2 connectors)
2x 36" (3 connector)
SATA: 6 Connectors
2x 31" length (3 connectors each)
PCI-E 6+2 Pin: 1 Connector
1x 22 ½" length
PCI-E 6 Pin: 1 Connector
1x 22 ½" length
4-Pin Floppy: 1 Connector
1x 27" length (at end of 20" Molex cable)
20+4 ATX Connector: 20" length
8 Pin CPU connector: 19" length
4 Pin CPU connector: 20" length
The Silencer 610 has been out for well over a year now but what we're looking at is a new revision which is SLI certified and comes with an 8-pin PCI-E power connector.
First things first; the box is huge! Power supply boxes seem to increase in size each time we see them and this is the biggest one we've seen so far. Although the box is big, it's a no frills design meaning it's a plain white box with just the features written on the sides and a red sticker which indicates a certification report is enclosed. It seems PC Power & Cooling are leaving all the talk up to the power supply itself. Note: Packaging has now been changed, the Power Supply comes in the box shown in the first picture above.
In the box, you get the Silencer itself, a power cord, mounting screws, an instruction manual and, as mentioned before, a test report.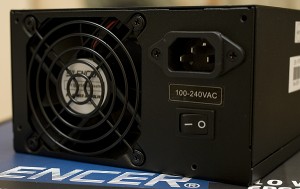 The Silencer 610 has a standard matte black finish which doesn't make it stand out from any other power supply. But with that being said, who actually sees the power supply in full view when it's in your PC – not many people at all. Another thing is that this power supply is targeted towards those looking for pure performance and those who are not worried about looks. The Silencer 610 has an 80mm fan on the back to ventilate the interior of the power supply which is nothing different to any other power supply.
One thing that is important if you are a potential buyer is that this power supply is slightly longer than a standard ATX power supply – approximately 0.75″ longer which could be a problem depending on your case.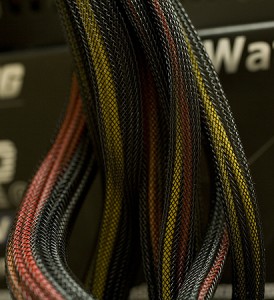 All of the cables on the Silencer 610 are sleeved but the Molex and SATA cables are only sleeved to the first connector. After that first connector, you are left with the unsatisfactory rainbow of colors presented by unsleeved cables. This is a huge disappointment considering the quality presented by the rest of the Silencer; it makes the entire presentation seem somewhat incomplete. Luckily, all of the cables are more than long enough but this causes another small problem: you better have a lot of space if you want to hide all of the unused cables.
In addition to the plethora of other connectors, there is also a pair of PCI-E power connectors of which one is a 6+2 pin connector. All this entails is the continuation of a pair of ground wires attached to an additional two connectors to make an 8-pin PCI-E connector which is compatible with the HD2900XT and other upcoming graphics cards.
Testing & Performance
Test System:
Intel Core 2 Quad Core (Q6600) @ 3GHZ
MSI P6N SLI Platinum
4GB DDR 800mhz (2x1GB Corsair XMS2 CL4, 2x1GB A-Data Extreme)
2 x MSI NVIDIA GeForce 8800GTX
150GB SATA Western Digital Raptor
250GB SATA Maxtor 250GB
LG DVD+-RW-DL
Antec Nine Hundred case
The following results show the average of 6 voltage readings taken in 1 hour of being idle and under load for each rail.
The idle voltages were measured by powering the system at the default speeds with no applications running for 60 minutes. The load voltages were measured by having 100% load on the CPU for a full 60 minutes. Both idle and load tests were repeated three times and the average was taken.
| | | | | | | |
| --- | --- | --- | --- | --- | --- | --- |
| Condition | +3.3V | +5V | +12V1 | +12V2 | +12V3 | +12V4 |
| Idle | 3.31 | 5.08 | 12.06 | 12.07 | 12.07 | 12.06 |
| Load | 3.31 | 5.09 | 12.06 | 12.06 | 12.06 | 12.06 |
As you can see by the results table, the voltages were very stable. There were a few minor 0.01V fluctuations but nothing to even worry or think about. The rest of the rails were spot on. Probably the most stable we've seen in a power supply, the Silencer performed like a real winner.
The Silencer shined again when it came to noise and heat. The 80mm fan on the Silencer was whisper quiet and the exhaust blown out was slightly warm meaning the Silencer was coping very well under stress. Only once or twice could we hear the fan when the Silencer was under full stress – and that only when we went right up close to it.
Conclusion
The Silencer 610 is a phenomenal power supply. Once again PC Power & Cooling have shown that they're still at the top of their game. We can't really find anything wrong with this power supply which would make us hesitate in recommending it to anyone. Sure it may not look the part, but we must always remember that this is a power supply and thus aesthetics should not bring it down.
Looking for a sub-700W power supply? Stop searching, you've found it.
Pros:
Top class performance
5 year warranty
Long cables
Quiet
Value for money
Cons: