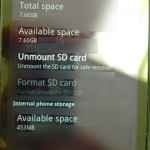 More pictures of the PlayStation Phone have turned up, showing it's codename and that it's going to be on the rather large side.
If the images are real, and there is no reason to doubt that the aren't, those opting for the phone when it launches should be prepared for a handset that is bigger than most already on the market.
Codenamed "Zeus", the images show the phone running "Froyo" (Android 2.2) – although rumours still suggest that the handset will be touting Android 3.0 when it eventually does launch.
Other information gleamed from the pictures include details of an 8GB microSD card, at least 512MB of internal storage, ands as Engadget who've been sent the images surmises, "a phone that is around 17mm thick, or slightly thicker than HTC's Touch Pro 2 (and funnily enough, about the same as the PSPgo)."
What do you think? Another picture after the break.
Via: Engadget