Pros:
+ Great design + High quality construction and materials + Rain proof and quick drying + Built-in rain cover
Cons:
- Not a con, but it would be nice if the strap had a little padding.

Not long ago we reviewed a camera bag from ThinkTank, designed to hold pretty much your whole camera kit. Of course, there are times when we don't need (or want) to carry around a big backpack full of equipment just for some casual photography. Sometimes all we need is our camera and one lens. This is where the Crumpler Quick Escape 300 comes in handy. Designed for entry-level SLR cameras with short zoom lens and accessories, whilst boasting an integrated rain cover and a ridiculous 30 year guarantee, is the Quick Escape 300 the perfect companion for casual shooting?
Specifications:
This size fits: entry-level SLR camera with short zoom lens + accessories
Size outside: 20.0 x 20.5 x 11.5 cm
Size inside: 13.0 x 17.0 x 9.5 cm
Weight (grams): 312.0
Features:
1000d Chicken Tex Supreme™ hyper performance fabric
Soft Protective Lining (Nylex)
Ripstop Lining
tongue divider with mesh and lining pocket for memory card and accessories
external webbing hang Loop on top
Adjustable shoulder strap with unique swivel mechanism offering cross-shoulder and waist belt carrying options
Quick Slip Keeper to hold the excess webbing onto the main strap
wide, top-loading opening with integrated pleats for safety
integrated rain cover at the back
In The Box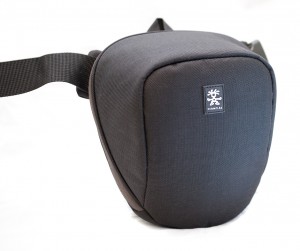 Just the Crumpler Quick Escape 300. The rain cover is integrated in the back so we will take a closer look at that when we get there.
Description:
Designed for a DSLR camera with a short zoom lens
This 300 sized bag from Crumpler is designed to fit a smaller DSLR camera with a standard or short zoom lens
30 year guarantee
Every Crumpler bag comes with a 30 year guarantee, their products are not only extremely good looking but also in top quality. Each bag is handmade and is subject to rigorous tests throughout the whole production process and they are confident they will never let you down.
Adjustable shoulder strap with swivel
The quick escape bag range has an adjustable shoulder strap with unique swivel mechanism offering cross-shoulder and waist belt carrying options.
Soft Protective Lining (Nylex)
A soft protective lining from Nylex is specially used in Crumpler's photo bags because of the the soft, protective nature. The structure also allows for velcro attachments, giving the photo bags a flexibility to change the arrangement of your internal dividers.
Ripstop lining
The ripstop lining is made from 330d treated nylon. Ripstop Lining is a fabric that is woven with a thicker thread to prevent the spreading of tears or punctures. Even if you manage to shove a pen through the lining of a crumpler bags (not an easy task), the tear or hole will not get any bigger than the 7mm grid because of the grid of thicker thread patterns you can see in the material.
Tongue divider
The tongue divider keeps your camera and whatever else you want to carry seperate. It has mesh and a lining pocket for memory card and accessories.
Quick slip keeper
This case comes with a "quick Slip Keeper" to hold the excess webbing onto the main strap. Allowing you to pull the bag nice and tight for excellent protection of your camera.
Wide top loading opening
The top of the bag opens wide allowing quick and easily access to your camera. The built in lip ensures the zip won't ever catch on the bags material.
Integrated rain cover
Even though Chicken Tex is rain-proof the quick escape comes with a built in rain cover that you can quick and easily pull out should the weather really turn back. Enjoying your expensive camera and accessories stay dry.
Made from 1000d Chicken Tex Supreme
Crumpler's official super high performance 1000d fabric which is lightweight, durable, resists tearing and is quick drying. Made with nylon thread which is air treated, this gives the final fabric its classic rough and fuzzy texture. This texture is what makes Chicken Tex Supreme so incredibly resistant to abrasion.
In-depth Look
Exterior:
One of the first things we noticed was that the Quick Escape 300 does not look like most other bags of this type. Crumpler have gone for a smooth, rounded shape to give that minimalist look which we think looks great. The fuss-free design also means you only have to open one pocket to find what you need – unless you left it at home. The name 'Quick Escape' says it all about this bag, and no that doesn't mean you camera will escape and crash land on the concrete below! The large pocket allows you to quickly draw your camera to capture that perfect moment, or for when you need to quickly store it back in without it being all fiddly and annoying.
On the front you have the rubber Crumpler logo, surrounded by one of the neat, contoured seams. The 1000d Chicken Tex Supreme feels very good quality and Crumpler claim it is quick drying and rain-proof without the cover, so that's something we will definitely test.
Moving on to the top and extending to each side is the large zip for access to the pocket. The zip is reversed which means it is 99% covered with fabric to prevent any form of moisture from entering the bag, but of course when yot put the rain-cover on there's no worry at all. The two oversized zippers are concave to fit better with the thumb and each have the Crumpler logo on one side, with 'Crumpler' text on the other. The black and white simplistic look is very consistent and pleasing to the eye. Also on the top there is a small handle which can also be used to hang the bag on a hook.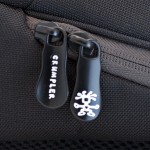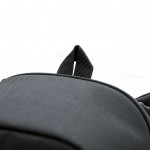 The back of the Quick Escape 300 is generously padded on the face, as well as the strap attachment areas allowing for maximum comfort. The strap itself is is pretty standard in size and looks, but we think Crumpler should have added a little padding somewhere along it since it'll be resting on your waist or shoulder. Other than that, the construction and quality of this bag is brilliant.
Hidden away at the bottom of the padding is a velcro secured slot which stores the rain cover. It's so well tucked away that we'd have no idea it was there if we weren't looking for it! The fact that a rain cover is provided and has it's own storage slot is a big bonus and sets this bag apart from many others. A huge thumbs up to Crumpler for that.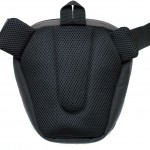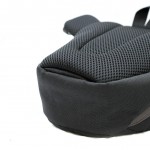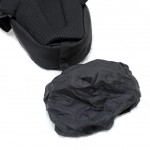 Interior:
The interior is lined with Nylex which cleverly allows you to attach anything velcro (such as dividers, etc). It's also very soft and adequately padded all around so you don't have to worry about any bumps or scratches on your camera. We would still advise you to keep your lens cap on, however.
The interior contains the section for the camera to sit in and then separately there is a tongue divider to keep your little bits and bobs such as memory cards, in one place. There are two small mesh-lined pockets and a larger open fabric pocket for easy access.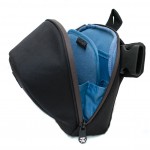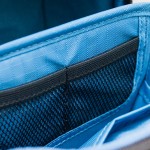 Performance:
Since we do a lot of photography, we managed to test this bag thoroughly with a Canon 600D and the larger Canon 7D. Although not designed for the Canon 7D, it still managed to fit in with a Sigma 30mm f/1.4 attached even tho it was a little tight. The Canon 600D fitted in with room to spare. The bag itself was comfortable to wear and any worries about the strap being uncomfortable were soon allayed.
Surprisingly, it did not rain at any point using this bag outside so we decided to test the bag a bit more vigorously with our own water tests: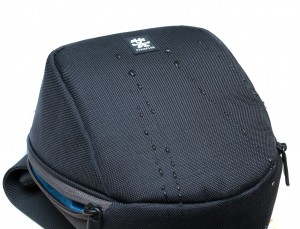 Crumpler's claims that the Quick Escape 300 is rain proof and quick drying appear to be quite true. After wiping off the water from the bag, the material feels completely dry. Any water on or around the zip stays out as it should. The overall round design of the bag helps any water simply drip off it as there's nowhere for it to sit and create miniature puddles.
The Quick Escape 300 really does allow you to quickly draw your camera out of your bag in one smooth motion. Once you've opened the zip, you have everything in front of you displayed and well organised. We can't really fault it.
Conclusion
Crumpler have produced nice and simple bag perfect for a day of casual shooting, but always ready for that serious shot. The quality and construction is top notch, and the materials are sure to last forever. The 30 year guarantee shows Crumpler's confidence in their products, but you quickly realise yourself the quality is brilliant.
Good looking, ergonomic and solidly built. If you are looking for simple, yet fully functioning all-weather camera bag then this may be perfect for you.
If the Quick Escape 300 doesn't suit your needs, don't forget there's the smaller Quick Escape 150 and four other larger versions (400, 600, 700 and 800) which hold larger cameras and lenses as well as other accessories including the iPad!
Pros:
+ Great design
+ High quality construction and materials
+ Rain proof and quick drying
+ Built-in rain cover
Cons:
– Not a con, but it would be nice if the strap had a little padding.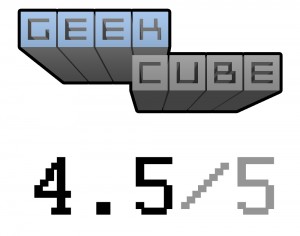 >
A big thank you to LoveCases.co.uk for providing this Crumpler case for review. Check out their awesome range of products, they even ship worldwide!