Pros:
Solidly built piece of kit that has no problems connected to any type of Bluetooth device. Keyboard layout is great and is a pleasure to type on. Very portable.

If you have a home theater PC (HTPC) or some kind of Android device connected to your TV, you know how handy it is to have a wireless keyboard and mouse. Using the on-screen keyboard is a pain, nor does anyone want to walk up to the screen and use the attached keyboard. Today we will be taking a look at the Periboard-806 from Perixx, a Bluetooth keyboard that can fold to fit inside your pocket. It also makes life easier for us lazy people.
Features
•
Bluetooth 3.0 Technology
•
Foldable design
•
Compatible with iOS, Android, and Windows operating system
•
Up to 10 Meters Interruption-free Receiving Distance
•
High Quality X Type Scissor Keys
•
Elegant Aluminium Design

---

System Requirements
•
IBM or Compatible PC System
•
Win XP / Vista / 7 / 8
•
MAC system
iOS

---

Package Content
•
Keyboard
•
User's Guide
As you can see in the chart, the Periboard-806 supports a variety of operating systems across many devices. Which we will of course test later on in this review.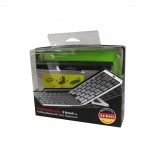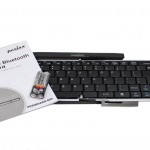 The keyboard itself feels good in the hands thanks to its aluminium body. The folding mechanism works well and is smooth and easy to open. When the Periboard-806 is folded, it measures just over 15cm x 10cm and 2cm thick meaning it can, depending on your clothing, fit in your pockets. The keys are also protected from damage when in the folded state.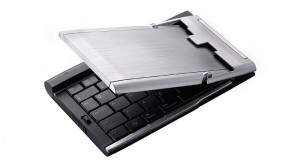 When opened up, the Periboard-806 feels very sturdy and does not creek much when torque is applied. The keys are very pleasant to type on and have good tactile feedback without making much noise. Thanks to the size of the keys it is easy to type on the Periboard-806 and the layout of the keys is pretty much just right.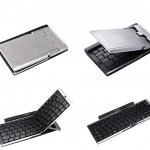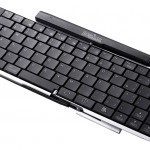 The keys are obviously flat, much like a laptop, which we personally prefer over normal desktop keyboards but they feel of high quality on the fingertips.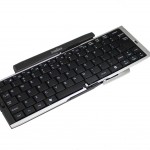 Connecting the Periboard is as simple as turning on Bluetooth on your device, then flicking on the Periboard 806's power switch and pressing the 'pair' button. Your device should then quickly find the Periboard 806 and will ask you to enter a short numerical code to type on the keyboard and press enter. Then you are all set to go. The whole process takes no more than 30 seconds after you've done it once to familiarise yourself with it.
The Periboard 806 uses Bluetooth 3.0 technology to connect to devices. Perixx claim the Periboard-806 will work with Apple's iPads/iPhone, Google Nexus 4/7/10, Samsung's Galaxy S3/4, Note and Tab so we will test these devices and more.

Of course, the only way to find out how compatible the Periboard 806 is, is to test it with as many devices as possible. We managed to get our hands on the following devices to test on:
– Apple iPad 2, 3, 4, Mini
– Apple iPhone 4S, 5, 5S
– Samsung Galaxy S2/3/4, Tab, Note 2
– BlackBerry PlayBook
– Google Nexus 4/7-2/10
– MyGica ATV120 (Android mini PC)
– Dell XPS laptop
Yes, we actually did painstakingly test the Periboard-806 on 18 different devices (a big thank you to family and friends who helped supply test devices!) and the Periboard 806 worked perfectly on every single one of them!
Conclusion
A great, portable Bluetooth capable of being almost certainly compatible with your device. With its great folding design, you can carry it around easily, even in your pocket or hidden away in a small bag. Silent typing, good key layout and tactile feedback allow for comfortable, pleasurable typing. Definitely recommended.
Where to buy: