If you're splashing out on an expensive smartphone, it's a pretty good idea to fork out a tiny bit more on a good quality case to protect your new toy from bumps, scratches and any (inevitable) drops. If you're still not convinced then you should read our article '4 Reasons To Use A Case For Your Smartphone'. If you've ordered the much-awaited Samsung Galaxy S4, which was released a couple of days ago, you are probably already aware of the huge number of cases that are available.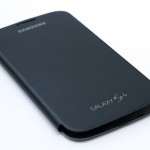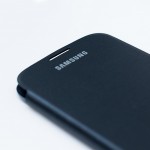 The official Samsung Galaxy S4 Flip Cover is one of them. It's manufactured by Samsung themselves and designed to protect the front of the phone, without adding any bulk. But this is not really your average 'case'. It's more like the stock backplate with a thin flip cover built-in. To install it, you simply remove the original backplate and replace it with the flip cover, which is identical in looks so you don't have to worry about the look of your phone being altered. The plastic backplate part of the flip cover is very solid and has a good thickness to it which makes it nice and rigid.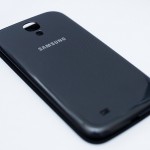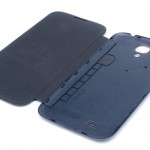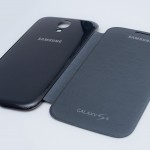 As you can see in the photographs, the flip cover looks great from the back and the front. The front cover has a brushed metal look to it and is smooth to the touch. The inside of the front cover is also smooth but has a soft feel to it. Unfortunately we do not yet have a Samsung Galaxy S4 to use this cover on, so we can't tell you how well it fits. But since this is an official Samsung product, you'd expect everything to be just right – especially because of the price. At £26.99 it certainly isn't the cheapest cover out there, but what you are getting is solid protection with minimal bulk. If you do happen to scratch up the back of your phone, remember you will still have the original backplate you can put back on but of course you will lose the flip cover to protect the front.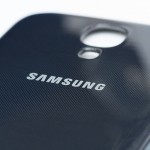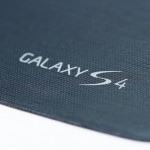 To conclude, the Galaxy S4 cover is very nice and sleek, as well as offering good protection without adding unwanted bulk to your phone. You won't visually alter the look of your phone, and the fact that it clips on as a backplate means you always have the option of putting back on your fresh, original backplate if it gets damaged at any point. Although a little costly, the price is dwarfed by the giant price of the Galaxy S4. If you're looking for a good looking cover that provides basic protection with pretty much zero bulk added onto your phone, the Samsung Galaxy S4 Flip Cover is probably what you're looking for.
The official Samsung Galaxy S4 flip cover was kindly provided to us by MobileFun. You can find many Samsung Galaxy S4 cases and covers at their online store, as well as cases and accessories for pretty much every other phone out there, check them out!