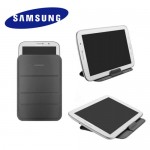 So the Samsung Galaxy Note 8.0 is now finally available for the folks in the UK. Naturally, for us tech-lovers we want to keep our brand new, shiny toys in pristine condition. But thanks to our good friends at GearZap.com, we can worry less about accidently damaging our brand new tablet.
They offer a huge range of Samsung Galaxy Note 8.0 accessories including official accessories. So if you're looking for a case, dock, stylus, charger, cable or even just a simple screen protector, GearZap are sure to have it so check out the links below!
Clicky here: GearZap.com Samsung Galaxy Note 8.0 Accessories
Oh, and by the way they also have accessories for pretty much all of the latest phones and tablets out there so have a good look around!