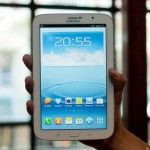 The Samsung Galaxy Note 8.0 is now up for sale in Samsung's Experience Store at Westfield Shopping Centre, Stratford.
It'll cost you £339 (€400/$516) and is the 16GB Wi-Fi only model, but if you are patient enough to wait until April 15 and onward, you can purchase the tablet with additional £20 voucher for Samsung's Learning Hub, free use of Samsung's Music Hub, two-month subscription to The Times, etc.
The 3G version is expected to arrive soon but there's no set dates or prices.
The Galaxy Note 8.0 is a direct competitor to the iPad mini and boasts an 8″ 1280 x 800 screen, quad-core Exynos 4412 (as found in the SIII, Note II and Note 10.1 slate) with four cores clocked at 1.6 GHz. It has a 5 MP camera and runs Android 4.1 Jelly Bean.
Via: Engadget