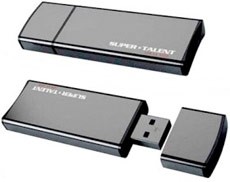 Pricing pressure, anyone? Super Talent has just put a serious kink in the plans of storage makers hoping to milk their dwindling USB 2.0 flash drive inventories into the holiday season, as the introduction of the USB 3.0 Express Duo line sets a new bar for MSRPs on these things. Expected to ship later this month, these critters are available in 8GB and 16GB capacities, with each offering USB 3.0 speeds, USB 2.0 backwards compatibility and price points of $14 and $29, respectively. Who doesn't love a good stocking stuffer, anyway?

SuperTalent Introduces USB 3.0 Flash Drive at less than $15
San Jose, California – October 29th, 2010 – Super Talent Technology, a leading manufacturer of Flash storage solutions and DRAM memory modules, today announced that their new USB 3.0 Express Duo has broken the $15 price barrier.
The fastest USB 2.0 flash drives are limited to a maximum READ speed of approximately 32MB/s. Super Talent's new USB 3.0 Express Duo can top over 67MB/s when plugged into a USB 3.0 port, yet remains fully-backward compatible to USB 2.0… and for about the same price. Starting today, Super Talent will begin offering the 8GB USB 3.0 Express DUO for $14 and the 16GB version for only $29!!
"The USB 3.0 Express DUO is perhaps our most exciting USB 3.0 flash drive to date. We were first to break the 300MB/s barrier with our USB 3.0 RAIDDrive and now we're breaking the $15 price barrier. There's simply really no reason to buy a USB 2.0 flash drive anymore"., CH Lee COO of SuperTalent.
Now Sampling to Press and taking orders for shipment in November.