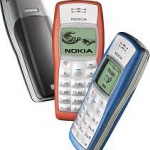 There are currently over five billion cellular phones being used worldwide. Cellphones have changed the way that people communicate, and allowed then to stay in constant contact and, in the case of smartphones, keep them permanently connected to the instant knowledge of the Internet. With such a large number carrying a cellphone, many consumers wonder which models have managed to become the most popular. Click 'more' to check out the list!
The Top Five Most Popular Cellphones Worldwide:
1. The Nokia 1100 is currently the best selling cellphone in the world. Since its creation, it has sold over 250 million units. The Nokia 1100 features a very basic design, including a small black and white screen and a 17-button keypad. This phone has achieved impressive popularity due to its simple nature, ease of use, and affordability. Even with the advanced features newer cellphone models offer, no phone even comes close to the popularity of the 1100.
2. The Nokia 3210 is the second highest selling cellphone worldwide. While this phone is significantly behind the 1100 in popularity, a staggering 160 million units have currently been sold. The Nokia 3210 also offers more advanced features than the Nokia 1100, including an internal antenna, T9 texting, games, and the ability to send picture messages. While cellphone technology has come a long way since the 3210, this phone still continues to be one of the world's best sellers.
3. The Motorola RAZR V3, which has sold over 130 million units, is the third most popular phone in the world. Released in 2004, the unique appearance of this phone made it a fashion must-have and rocketed it to success. The Motorola RAZR is the first flip-phone to make the list and was the thinnest, sleekest phone available. While the Motorola RAZR may not appear impressive in current times, this model can be held responsible for the increasingly stylish appearance of many current cellphone models.
4. The iPhone 3G is the most popular phone in the United States, currently owned by 4% of American cellphone users. Since the launch of the iPhone in 2007, over 51 million models have been sold. Many cellphone users believe that the iPhone has "reinvented" the cellphone industry and propelled manufacturers into creating advanced, consumer-friendly smartphones that are ideal for taking pictures, surfing the web, and using a variety of applications.
5. The Nokia 3720 Classic is the fifth highest selling cellphone around the world in 2010. This phone, which has only been available for about a year, is an affordable model offering a durable water-proof design. This phone has gained popularity mainly due to its low price and long-lasting reliability, which makes it a great deal for busy children, teens, and adults.
Britney Baker reviews prepaid cellphones for PrepaidCellphones.net. Her latest review looked at Tracfone.