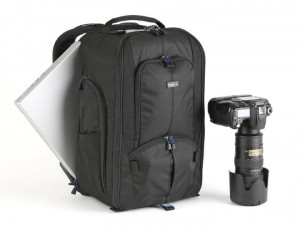 A serious photographer's camera kit can easily run into the thousands of dollars and, quite often, tens of thousands once their lens collection has built up. Owning all that expensive and hard-earned equipment requires at least two things; you must be able to carry it around with you easily AND keep it protected. A good camera bag is a must for all photographers who care about their equipment and there are a huge number to choose from.
Today, we will be looking at a camera bag from ThinkTank Photo. They are a very well-known and reliable American company, with many top-level professionals and enthusiasts alike trusting them for their camera carrying solutions. They produce many different types of bags and cases designed for all types of photographers. In this review, we will be looking at the StreetWalker HardDrive – a backpack capable of carrying a pro-size DSLR with attached 70-200mm f/2.8 lens and several other lenses/accessories as well as a 15" laptop!
About:
Think Tank Photo is a group of designers and professional photographers focused on studying how photographers work, and developing inventive new carrying solutions to meet their needs. By focusing on "speed" and "accessibility," we prepare photographers to Be Ready "Before The Moment," allowing them to document those historic moments that reflect their personal visions and artistic talents. For some companies, it is only about the product. For us, it is more: It is about supporting photographers doing their job. If we can design products that help photographers travel easier, take pictures faster, and organize their gear more efficiently, then we will have accomplished something beyond the bags themselves.
What ThinkTank has to say:
Designed for use in urban and crowded environments, this slim, lightweight backpack also holds a 15" laptop, as well as a pro-size DSLR and a 70-200 2.8 with hood attached.
Top Features:
Carry monopods and tripods in the bottom front pocket.
Additional tripod cup for larger tripods.
Thin Skin Belt, Pro Speed Belt or Steroid Speed Belt (sold separately) can be attached
Contoured harness for men and women with air channel.
Gear Profile:
Holds Pro Size DSLR with 70-200 2.8 attached and hood in position ready to shoot.
Two side pockets and two stretch pockets.
Photographer Profile:
All photographers, from pros to serious enthusiasts.
Specifications:
Internal Dimensions: 11" W x 19" H x 6–7" D (28 x 48.3 x 15–18 cm)
External Dimensions: 11.5" W x 19.8" H x 8.5" D (29 x 50.3 x 22 cm)
Laptop Compartment ID: 13.5″ H x 11.25″ W x 1.5″ D OR 15.25″ H when not using the bag with a Pro-Size DSLR (34.3 H / 38.72 H x 28.6 W x 3.8 D cm)
3.8–4.6 lbs (1.7–2.1 kg)
No Rhetoric Warranty Policy
Exterior – All fabric exterior treated with DWR while fabric underside is coated with PU for superior water resistance, YKK® RC Fuse (abrasion resistant) zippers, 1680D ballistic nylon bottom panel, 420D velocity nylon, 550D polyester, 3D air mesh, ultra stretch pockets, Y-buckles, antique nickel plated metal hardware, nylon webbing, 3-ply bonded nylon thread.
Interior – Removable closed cell foam dividers, 210D silver-toned nylon, PU backed velex liner, 2x PU coated nylon 210T seam-sealed taffeta rain cover, clear PU mesh pockets (non-PVC), 3-ply bonded nylon thread.
Features:
Holds most 15" laptops.
Holds Pro-size SLR and 70-200 2.8 attached with hood in position.
Carry monopods and tripods in the bottom front pocket.
Additional tripod cup for larger tripods.
Pro Speed Belt (sold separately) can be attached.
Contoured harness for men and women with air channel.
Removable seam-sealed rain cover.
Upper organizer pocket for pens, memory cards, passports, and more.
Two side pockets and two stretch pockets.
Removable webbing waistbelt detaches easily.
Shoulder harness pockets, D Rings, and sternum strap.
Features clear business card holder for quick identification.
Sold separately – Camera Support Straps.
YKK locking zipper sliders.
In the box:
StreetWalker HardDrive bag – but inside the bag itself there's a tripod/monopod strap, a seam-sealed rain cover, instruction manual and a ThinkTank product brochure.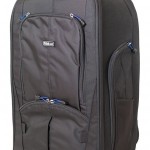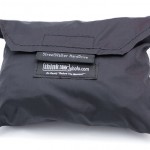 In-depth Look:
Exterior:
The StreetWalker HardDrive, like the rest of ThinkTank's offerings, is designed to really mean business. And it does. What that means is this bag isn't supposed to standout and look all pretty – and for good reason. As a photographer, you wouldn't want your bag containing several thousand dollars' worth of equipment to catch the eye of any thief. We're not saying this bag is ugly (because it isn't), it's just designed with its most important job in mind. We agree with ThinkTank's designers on this – this is how it should be.
The bag itself doesn't really scream 'camera bag' when you look at it, which we think is beneficial for the aforementioned reason. The StreetWalker HardDrive is a tough-looking backpack, which is slightly bigger than a 'normal' backpack although when wearing it it doesn't look so big. Again, this is a positive about the bag. All good so far.
There are four zipped pockets on the outside of the StreetWalker HardDrive – one on each side and two on the back one below the other. The top exterior pocket on the back is designed to hold pens, memory cards, passports, etc and also contains another zipped pocket inside it. The bottom pocket is plain and has no little compartments like the one above. Additionally, on top of the two side exterior pockets there is an open-top elastic pocket which is perfect if you need to quickly slip something in at the last minute.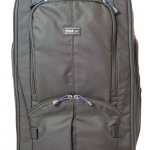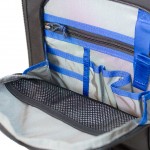 One of our favourite features of this case is the pull-out tripod/monopod pocket and straps. At the bottom of the lower exterior pocket is a pullout pocket (which is hidden and secured with Velcro when not in use) that your tripod or monopod sits in. Combined with the included tripod/monopod strap, this allows you to secure your tripod/monopod or light stand to the outside of your bag easily and quickly.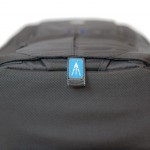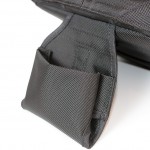 The following video from ThinkTank shows how to attach a tripod to the bag:
Furthermore, this bag uses very high quality YKK zips. The zips to open the main flap are helpfully oversized which shows the great thought ThinkTank put into this design. Very useful if you are wearing gloves or when your hands are not dry and grippy. The very top of the bag has a handle as expected, and below it is a business card holder which can also be used to hold any cards/tickets/personal ID.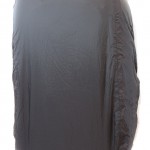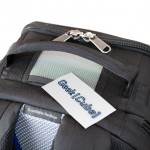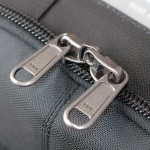 We will discuss the shoulder strap and padded area in the performance section.
Interior:
The StreetWalker HardDrive is not crammed with pockets that go unused 99% of the time. Instead, ThinkTank's approach is intelligent. They provide places for everything and thus you don't need to go through your whole bag to find what you're looking for. Inside the main flap, there are 2 transparent zipped pockets which allow you to see what's in them without having to awkwardly rummage through them blindly. Another thumbs up for the StreetWalker HardDrive.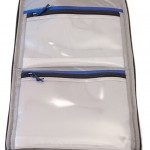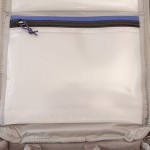 The main camera compartment can store a ridiculous amount of equipment gear for its relatively conservative size. We have seen people put in a couple of bodies (cameras, not humans), plenty of large lenses, flashes and a horde of other equipment. In its default arrangement, there are 13 separate compartments and that's not including the area for the camera body with 70-200mm lens attached! There are eleven Velcro edged 'walls' included which allows you to customise the size of each compartment, or completely remove them to create bigger compartments. This is very handy when you want to carry several long lenses. Overall, it feels very secure and the material and construction is top-notch. Fantastic quality.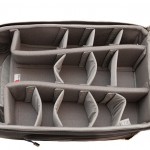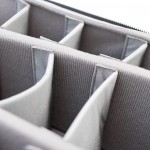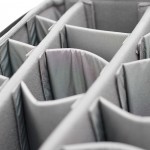 Then there is the laptop compartment – not much to say about it apart from how very generously padded it is from the inside (and outside). We'd have no worries putting our laptop in this bag. Our 15.4" Dell fitted in very nicely. Removing your laptop from your bag is a requirement at airport security these days, and thanks to the dedicated compartment it should be a breeze. The laptop compartment can also be used to carry any extra cables and straps provided you aren't bringing your laptop.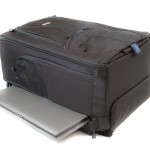 Performance:
Besides the capacity and ergonomics of the Streetwalker HardDrive, it is also intended to be comfortable to wear for long periods of time. The shoulder straps are wide and very nicely padded so they distribute the weight evenly over your body and don't 'cut into' your shoulders. The back padding is brilliant as well. ThinkTank have thoughtfully incorporated a gap in the padding in the middle to allow airflow. This will definitely help keep you cooler when you're carrying it around on your back. The padding on the straps and back is also mesh-lined to further increase airflow. There is also some very thick padding at the bottom for your lower back.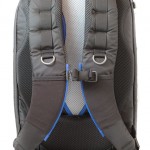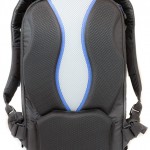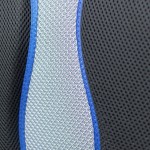 On each shoulder strap there are elastic pockets and a D-ring for attaching anything to. There is also a very clever adjustable sternum strap which can be slid up or down and a waist strap.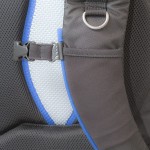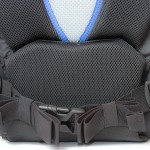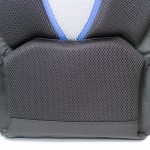 But how comfortable is it?
We loaded this bag up till it weighed around 25lbs and went for a walk with some moderate uphills and downhills totalling about 4 hours. Although it did feel heavy after a while, this bag did not feel like it weighed anywhere near 25lbs because it remained very comfortable throughout the journey. Not once did it feel like it was cutting in or pulling back our shoulders. We're sure we burnt a fair few calories that day. It wasn't easy, but it sure as hell was made a lot easier with the StreetWalker HardDrive.
Conclusion:
The ThinkTank StreetWalker HardDrive is a top-quality piece of kit every serious photographer should consider. ThinkTank have put great thought into its design and as a result have come up with a very solidly built backpack designed to carry almost everything, whilst maintaining the utmost comfort for the poor guy who has to carry it all day. As well as camera equipment, the inclusion of a discreet laptop compartment is a real plus.
It is very slightly larger than your average backpack, but then again it's probably a hundred times more comfortable to wear. Its ability to customize compartments, the tripod holder, the handy little pockets and the rain cover make this an amazing all-round backpack for any photographer who wants to carry their precious and expensive camera equipment without worry. ThinkTank is the choice of professionals for this very reason.
Costing around $220, this isn't the cheapest camera bag out there but you get what you pay for. Plus, why would you want to carry $10k+ worth of equipment in a cheap bag?
Pros:
+ High quality construction and materials
+ Perfect design, easily customizable
+ Holds a ridiculous amount of gear
+ Holds laptop very securely
+ Very comfortable even for long periods at a time and fully loaded
+ Includes rain cover and tripod/monopod holder
Cons:
None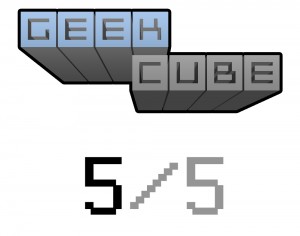 A big thank you to ThinkTank Photo (www.thinktankphoto.com) for making this review possible, please check our their website showing their full line-up of products!
Looking to buy the StreetWalker HardDrive? Click the appropriate links below!