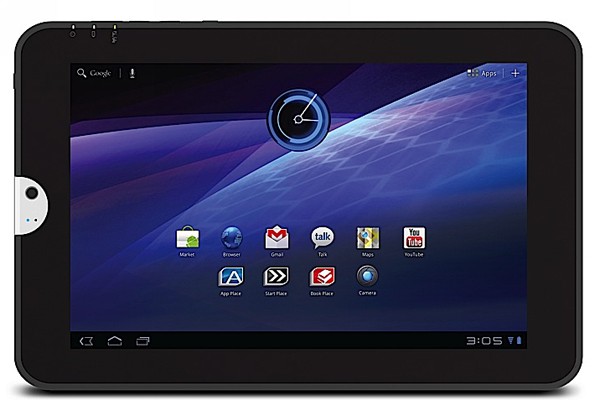 That Toshiba Thrive tablet that surfaced on J&R's site last month? Turns out, someone got a little excited — the company just confirmed the listing went up prematurely and that the price was wrong. But, we just got word that the Thrive will indeed debut as Toshiba's first tablet for the US market with pre-orders beginning June 13th at Best Buy, along with the usual "office superstores" and "e-commerce players," and a mid-July ship date (we're hearing the 10th). The 10.1-inch (1280 x 800) tablet runs Android 3.1, and comes in three sizes: 8GB ($429), 16GB ($479), and 32GB ($579). Not bad, when you consider the 16GB model undercuts the Galaxy Tab 10.1 by $20.
If you've been following along, you already know it's powered by Tegra 2 and has WiFi, Bluetooth, full-sized USB and HDMI ports, an SD slot, a 2 MP front-facing camera, and a 5MP rear one. But the company also just unleashed a slew of other details. Head on past the break for a run-down, won't you?
The Thrive's got a haptic display and a button to lock the screen orientation. It also comes with a Toshiba-branded file manager and Swype pre-installed — though, as always, you can switch to the stock Android keyboard. The company also bundled its Resolution+ software, which it already uses to clean up and upscale video in its TVs and laptops. And, it also has a removable battery that's rated up to seven hours of continuous HD video playback, and promises to recharge up to 90 percent in an hour and a half.
We're stoked to handle one of these in person, as you can imagine, but at the moment we're a bit concerned about the weight: at 1.6 pounds, it's about as heavy as the first-gen iPad, which, like, scads of other tablets, have since gone on a diet. Then again, Toshiba was late to the netbook market and served up one of the best minis of all time, and few other tablet let you swap out the battery, so we'll just have to reserve judgment until we get one of these bad boys in to review.