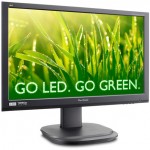 GO LED. GO GREEN. No, it's not some whippersnapper's 2010 Presidential campaign slogan, it's the motto of ViewSonic's newest LCD monitor range. The VG36-LED series is comprised of two units as of now, the 22-inch VG2236wm-LED and the 24-inch VG2436wm-LED. Both of these guys boast LED-backlit panels, a native 1,920 x 1,080 screen resolution, VGA / DVI connectivity options, a borderline comical 20,000,000:1 dynamic contrast ratio and EPEAT Gold certifications for all the Sierra Club members in attendance. You'll also get a stand with more adjustments than your mother could ever figure out, and thankfully, neither one is positioned to break the bank — they're available now for $229 and $259 in order of mention.
ViewSonic Backs LED Display Commitment With Launch of Environmentally-Friendly VG36-LED Series
Company Announces 24″ VG2436wm-LED and 22″ VG2236wm-LED Ergonomic, Cost-Efficient Displays

WALNUT, CA–(Marketwire – November 3, 2010) – Following its recent announcement to take its entire display line to LED by early 2011, ViewSonic® Corp., a leading global provider of computing, consumer electronics and communications solutions, today announced the launch of its latest LED backlit monitors — the VG36-LED Series.
Furthering its commitment to smarter, greener computing, the VG36-LED Series makes its debut with the 24″ (23.6″ vis.) VG2436wm-LED and 22″ (21.5″ vis.) VG2236wm-LED. These environmentally-friendly LED monitors feature a slim bezel profile and native 1920×1080 resolution. In addition to Full HD resolution and DVI and VGA connectivity options, both mercury-free monitors offer an impressive 20,000,000:1 MEGA contrast ratio and built-in stereo speakers for the ultimate viewing experience. Teamed with Energy Star® and EPEAT Gold certifications and an energy savings of up to 50%, the VG36-LED Series combines the best of all worlds.
For a full range of ergonomic options, these monitors include 90-degree pivot, height adjustment of up to 5.4″, 360-degree swivel and tilt for a truly customized desktop set up. Alternatively, users can mount these monitors to the wall with a VESA® compliant monitor stand. And at 24″ and 22″, their generous sizes allow for side-by-side document viewing to aide with multitasking for maximum utilization of desktop space.
"With the introduction of the VG36-LED Series, ViewSonic continues to deliver on our promise to offer our customers significant energy cost savings and improved performance and brilliant picture quality," said Sally Wang, senior director of product marketing for ViewSonic. "These monitors represent another step towards our commitment to delivering an array of green LED products that best fit the needs of our customers."
The VG36-LED Series provides the crisp, clear picture quality users have come to expect from ViewSonic, coupled with the company's strongest pixel performance guarantee and a three-year limited warranty. The 22″ VG2236wm-LED and 24″ VG2436wm-LED are both now available for respective ESPs of $229 and $259.