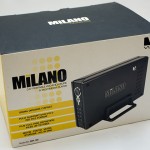 In the home, there are numerous ways to distribute media from its physical location to anywhere around the house. One of those methods we will be looking at is the use of hard drive enclosures. Hard drive enclosures allow you to simply slip in a hard drive, and the enclosure does the rest. Today, we will be looking at VIZO's Milano which supports digital out to your receiver for audio, and hooks up to your TV using major analogue formats to play video and display pictures – it even comes with a remote control.
About VIZO:
VIZO Technology Corporation is a leading global manufacturer and designer of computer peripheral products serving customers around the world. Established in Taiwan in 1992, VIZO has expanded and now operates in the market completely reorganized and prepared to meet the demand for high quality products which are "Made in Taiwan".
Specifications:
Dimensions:

4.5″ (W) x 1.4″ (H) x 8″ (D)
115mm (W) x 36.5mm (H) x 202.5mm (D)

Weight (without HDD):
Interface: 480Mbps USB 2.0 (USB 1.1 Compatible)
Compatibility: 3.5″ IDE HDD (Maximum capacity up to 750GB)
Compatible OS: Windows 98SE/ME/2000/XP/Vista or Mac 10.3 & above
HDD Format Support: FAT32/NTFS/HFS+
TV Type: NTSC / PAL
Power Supply: AC/DC Power Adapter (AC input: 100~240 Vac, DC output : +5V/+12V)
Movie: MPEG-1 (AVI; MP; DAT) MPEG-2 (AVI; VOB; IFO; ISO) MPEG-4 (AVI; DIVX3.11; DIVX4.XX; DIVX5.XX; XVID)
Music: MP3( 32-320 kbps ), WAV( 16-48 kpbs ), WMA( 32-320 kbps ), AC3, OGG( 45-500 kbps )
Photo: JPG/ JPEG up to 8mega pixel (baseline and progressive)
Video Output:

Composite RCA, HD Component, S-Video
480p, 720p, 1080i

Audio Output:

Composite RCA with L/R audio, SPDIF optical output
Stereo, Digital AC3 5.X CH. Surround Sound
Features:
Sigma Designs chipset
Aluminum case to provide the excellent heat dissipation
Support front panel control and remote control (IR)
Digital Multimedia Player via TV/Projector
DVD Manager – Playback of DVD File same as Original DVD Title (IFO/ISO)
Design
The cardboard box is a normal 'flap clip' type to hold it closed at the top. VIZO have again done well with packaging making it look attractive. On the front, there's a photo of the VIZO Milano with features and specifications listed.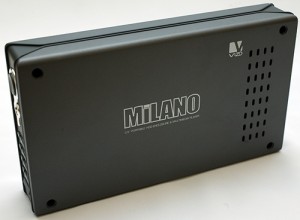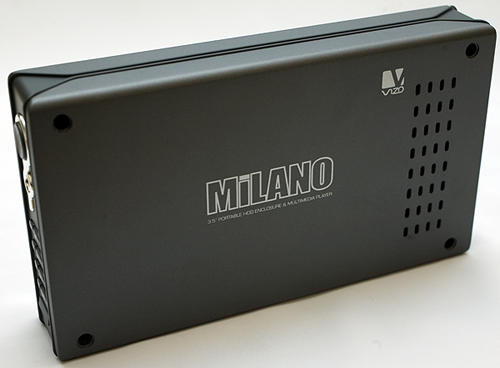 In the box you receive the following; the Milano itself, composite AV cable, Component AV cable, S-Video cable, USB cable, AC adapter and power cord, remote control w/2xAAA batteries, a pack of screws, a vertical stand and a user manual. That's quite a lot squeezed into such a small box.
The screws are not screwed in to the Milano when you get it since you have to install the hard drive into the enclosure anyway. Removing the aluminium cover reveals the innards of Milano. Not all of the Milano is made of metal unfortunately, and this can only have a negative effect as metal is the better heat dissipater.
There is an aluminum frame included which is used for securing to the hard drive with screws. Once the hard drive is screwed in, simply connect the power and PATA connector and slip it in to the enclosure. Next, you align the frame up with the enclosure cover screw holes, then pop the aluminium casing on screw it all in.
The back of the Milano has the input/output connections – Power, 3.5mm composite video out, 3.5mm S-Video/component video out, optical out and USB 2.0. Video out cables are included for the proprietary 3.5mm video outs; but it would have been nicer if it had been standard connectors instead as some users prefer to use their own high quality cables.
On the front of the Milano, we have the controls. At the top is the power button with its blue LED that indicated power and disk activity. Just below that is the remote control sensor. Finally, there's an array of eight buttons which are fore basic navigation and controls.
Along with the Milano is an unbranded remote control, a welcome addition considering that the Milano is a media enclosure. The remote control performs very well and the Milano responds to it even at difficult angles.
The remote control's layout is pretty much standard with the red power button at the top and the number buttons below it and then the navigation buttons in grey below. There's also volume control and a mute button, too. The 6 buttons at the bottom are more specific to the Milano itself such as setup, TV out settings, etc.
Testing & Performance
We took a spare Seagate 7200.7 160GB from one of our unused computers and put it in the Milano to test. Thankfully, Milano worked first time and we had no issues at all. When it had finished loading, it displayed the partitioned NTFS volumes we had on the drive which in our case was two.
Once running, pressing the setup button brings, quire rightly, the setup screen. The first group of settings are 'AV Setting' where modes (PAL/NTSC) are chosen along with aspect ratio and screen resolution. Current settings are shown at the bottom of the screen.
Navigation is very simple with the remote control, using the direction pad and OK button in the centre. The interface is very bland and kind of boring and the file browser is pretty basic. We weren't too worried about the interface or browser though because they just worked and that's what mattered most. In the file browser, the file types are shown and represented with the association icon and the file size in the top right corner.
Once you select a music file, the music player starts and a playlist with the files in the current folder are displayed. Elapsed time on the song is shown in the top box's left hand corner and the time remaining is on the right. The progress bar is shown below the file name and a volume bar is right next to the progress bar. To return to the file browser, there is a 'Stop' button which will take you back. Annoyingly, if you're playing music and you decide to go back to the file browser, your music will stop playing.
Thankfully, video playback is very good on the Milano. We had no problems getting our videos to play on the Milano and the quality was excellent even in complex scenes. DivX and Xvid playback was flawless which is great news, but you'll find that not all of your AVI contained files will play, e.g. from digital cameras, etc. VOB files worked well as well. Unfortunately, the Milano is unable to play back WMVs, which would have been nice. Composite, component, and S-Video out are available, but what's lacking is digital video out such as HDMI. A feature like this would definitely be welcomed and would make the Milano a lot more attractive.
Analogue sound produced by the Milano was decent but nothing out of the ordinary. Optical out was definitely a lot better and crisper and we're glad that this feature was included on the Milano.
In general, the Milano works well. The user interface could do with some work in terms of navigation. It's also quite boring and plain, so graphics wise it could look a lot better. Video playback is great for what the Milano supports but more support would of course be better.
Conclusion
The idea of turning any standard hard drive into a HD multimedia device is great. The Milano's sleek design and remote makes it a very interesting device that performs very well in terms of audio and video. Many improvements can be made to the Milano such as more supported file formats, HDMI out and improved firmware. That could be quite a lot of work but an updated Milano would surely be an incredible media enclosure.
Pros:
Great video playback
Solid build
Remote
Cons: