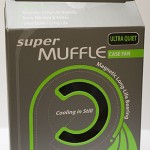 We're on a roll! We're back again with another product from VIZO, this time it's a fan named Super Muffle and it has the new magnetic bearing technology recently released by VIZO. The Super Muffle is an 120mm (also available in 80mm) case fan designed for extended lifetime – up to 50,000 hours and super quiet operation boasting less than 17 dBA. Enough of the talk, let's just see how good this fan really is.
Specifications:
Dimensions: 120 x 120 x 25 mm
Rated Voltage: 12 V
Operating Voltage: DC 7 V ~ DC 13.2 V
Starting Voltage: DC 7 V
Power Consumption: 0.78 W
Fan Speed: 1200 R.P.M.
Air Flow: 38.4 CFM
Noise : <17 dBA
Life Expectancy: 50,000 hrs
The Super Muffle's packaging, like most of VIZO's products, is attractive. It comes in cardboard packaging which is matte silver and green. There is a small arc shaped window on the front which doesn't really show you much but it still looks good. On the front at the top, it lists the features:
– Magnetic long-life bearing dramatically extends fan lifetime
– More reliable & stable
– Ultra quiet / Long life
The rear of the packaging gives more detailed information as seen on VIZO's website.
Inside the package you get, the Super Muffle fan itself, an adapter for 3-pin to 4-pin Molex and 4 mounting screws. No instructions included, no instructions needed.
The Super Muffle is black and has a 7 blade design for greater surface area contact. Not much else can be said about the looks as it's pretty normal.
Testing & Performance
When we connected the Super Muffle up to a fan speed controller and measured the speed, we got the following:
| Voltage (V) | Speed (RPM) |
| --- | --- |
| 7 | 750 |
| 12 | 1200 |
To test the thermal performance of this fan, we used an Antec P180B with its stock 120mm case fan and then replaced with the Super Muffle. The system specs were as follows:
Intel Core 2 Quad Core (Q6700) @ 2.4GHZ Stock
MSI P6N SLI Platinum
MSI NVIDIA Geforce 8600 GT
OCZ GameXtreme 700W Power Supply
Windows Vista Ultimate Edition x86
The idle temperature with the stock fan was 35 degrees Celsius, with the Super Muffle it was 33 degrees Celsius.
The load temperature with the stock fan was 43 degrees Celsius, with the Super Muffle it was 39 degrees Celsius.
Conclusion
After our testing with the Super Muffle in our case, there's nothing negative we can really say. They're very quiet and only at highest speed you can hear the magnetic clicking noise when you are next to the fan with your ear.
Pros:
Cons: