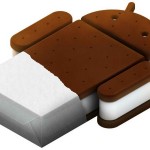 If you've been shopping around for smart phones lately, then you've no doubt heard about Google's new Ice Cream Sandwich. So, what exactly is this Ice Cream Sandwich, and how in the world does it have anything to do with technology? What's more, if your smart phone comes equipped with Ice Cream Sandwich, will your hands get sticky every time you take a call?! If this novel technological term, named after a favorite novelty, has you a little confused, then you're not alone. A lot of people are asking, "What the heck is the Ice Cream Sandwich?" This guide should help clear the air.
Basics. Simply put, Ice Cream Sandwich is Google's new operating system for smart phones. It is just the latest in a long line of confectionary operating systems: Froyo (short for frozen yogurt), Gingerbread, Honeycomb, and now Ice Cream Sandwich (ICS). ICS combines features from these previous operating system incarnations in order to create a new, and reportedly better, user experience.
Features. The ICS desktop is a far departure from its predecessors. It is still highly customizable, but now, instead of scrolling up and down, you scroll left to right; instead of Menu and Search buttons, there's an Active Bar and Recent Apps button for simplicity in multi-tasking. There's also a bold, crisp new typeface, called Roboto, that's specifically designed for the newer, pixel-rich smart phone screens.
Apps. All of the Android apps have been optimized for Ice Cream Sandwich, meaning they offer easier to use interfaces, greater connectivity, and increased functionality.
Multitasking and notifications. No longer do your apps continue to run in the background, slowing down your system, long after you're done using them. The easy navigation of the ICS user interface allows you to easily view all of your apps on one screen, and simply swipe away those you are done with. What's more, notifications are just as easy to view and swipe away, so they do not clog your screen.
Browser. The ICS browser is more like a standard desktop browser. This means that you can have up to sixteen tabs up at one time, and that you are not forced into viewing the mobile version of a website (this comes in handy especially when using ICS on a tablet), but can rather view web pages in full-screen mode.
Now that you've learned what there is to know about Ice Cream Sandwich, doesn't it sound sweet? Take advantage of all ICS has to offer by purchasing an Android smart phone, and enjoy your treat.
[info_box]About the Author: Dona Collins is a huge fan of technology and loves watching changing trends. She enjoys working groups like Accounting Principals finance recruiting to help other professionals find new jobs.[/info_box]