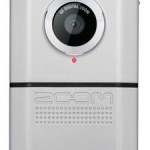 Zoom has just announced that the Q3HD is officially available at retailers across the US for $299.99. That will not only get you full 1080p video recording, but some high-quality, 24-bit/96kHz audio from the camera's stereo microphones, which the company says makes it particularly well-suited for musicians or those working with musicians — a fact fully backed up by the auto-playing Joe Satriani on the company's website, and videos featuring the likes of Roger Waters, Anthrax, and Megadeth. Check out a sample after the break.
Zoom Announces Availability of the Q3HD Handy Video Recorder – Only Point-and-Shoot to Record HD Video & HD Audio
Check out soundmakesthemovie.com to see HD footage shot with the Q3HD
Hauppauge, NY – December 01, 2010 – Zoom, makers of award-winning stereo recorders, is excited to announce availability of the highly anticipated Q3HD Handy Video Recorder – the only handheld to record both HD video and HD audio (24-bit/96kHz). The Q3HD combines Full HD 1080p video with Zoom's renowned audio technology and a new user-friendly icon-based interface allowing users to capture truly immersive movies with ease and confidence.
The Q3HD records in both Full HD 1080p at 30 fps (frames per second) and 720p at 30 or 60 fps. Zoom paired its redesigned larger aperture with three lighting settings to ensure the perfect amount of light in every shot. Zoom's exclusive "Concert Lighting" setting allows the camera to capture clear, detailed videos even in light-intensive environments that would cause most camcorders to wash out.
Zoom smartly incorporated the same microphone capsules used in their industry-leading H4n recorder, configured in a wide 120° X/Y pattern, offering unparalleled stereo recording quality. Users will appreciate how simple it is to set audio levels using the onboard level meters and mic gain switch with auto gain control.
After shooting, videographers can turn the Q3HD on its side to watch videos in 16:9 format on its color LCD screen or take advantage of the built-in HDMI port to view and share new footage on an HDTV. The Q3HD also has a built-in USB 2.0 cable to transfer, view and edit movies on a PC or Mac.
The Q3HD comes with a 2GB SD card that provides up to 45 minutes of HD video and accepts up to a 32GB SDHC card for approximately 7 hours of HD video. Zoom also includes HandyShare editing software and two AA batteries.
The Zoom Q3HD is now available at major retailers across the country for $299.99 MAP. A Q3HD accessory package (APQ-3HD) that includes a soft shell case, windscreen, AC adapter, HDMI cable, AV cable and tripod can be purchased separately for $39.99 MAP.
For additional information please visit soundmakesthemovie.com or contact PR Representative Mark Olson at (305) 576-1171 x17 or at markolson@maxborgesagency.com.
About Zoom Corporation
Zoom is renowned all over the world for its recording and guitar effects gear. Headquartered in Tokyo, Zoom has continuously created a diverse line of original, innovative audio products from effect processors, to rhythm machines, samplers and recorders. Samson Technologies is the exclusive U.S. distributor of Zoom products. Samson is based in Hauppauge, New York. zoom.co.jp / samsontech.com
Source: Zoom